Setting fire to house and spraying enticing slogans in Ramallah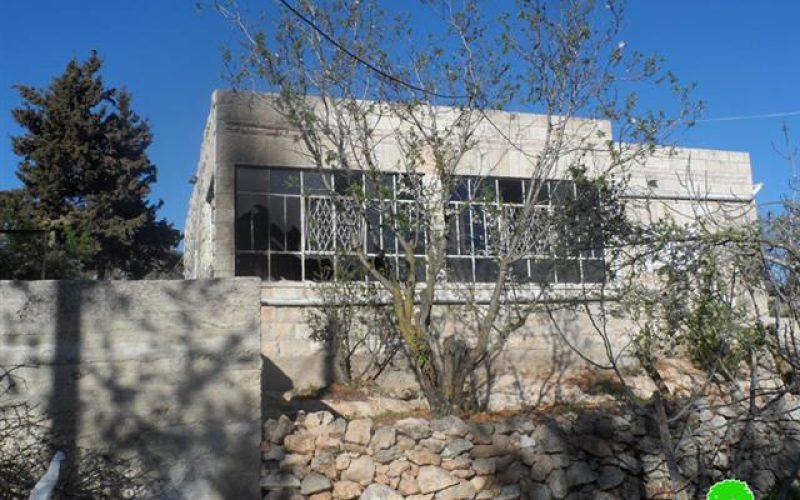 Violation: Committing a price-tag hate crime
Location: Silwad town- Ramallah governorate
Date: 27/02/2014
Victims: Muhammad Hamad
Details:
In a wave of anti-Arab hate crimes, a radical group of colonists known as 'price-taggers' sneaked into Silwad via its eastern entrance and embarked on committing a new crime against humanity as they set a Palestinian house located at the main street on fire. They did so by throwing a Molotov cocktail at the house, burning it and causing partial damage. Hateful graffiti reading "Death to Arabs" was also found at the scene.
The house belongs to Muhammad Hammad from Silwad who was not present at the house when it was targeted.
Pictures 1-2: The destroyed house after being torched
Price-tag groups are terrorist gangs of right wing activists carrying out systematic and/or 'strategic' attacks all over the West Bank, including Jerusalem, and the 1948-occupied Palestine under the protection and support of the Israeli Army. The price-tag campaign includes attacks on Palestinian-owned property like lands, crops and vehicles as well as attacks on religious sites and writing offensive and enticing slogans among others.
During the past 3 years, the southern countryside of Nablus has witnessed a ferocious attack by price-taggers who wreaked havoc in the area, causing great loss to farmers in the first place.
Prepared by
The Land Research Center
LRC