Miskiot colonists take over a water spring in Ein el-Hilweh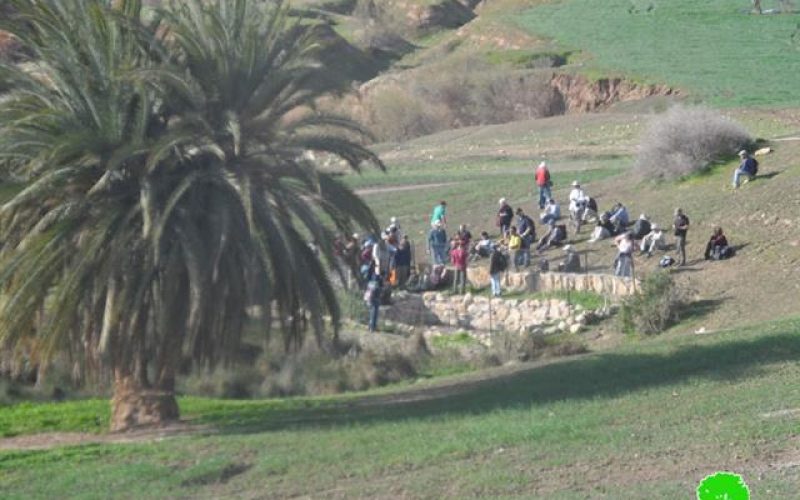 Violation: confiscating a water spring
Date: 01/02/2014
Perpetrators: Miskiot colonists
Location: Wadi al-Malih
Details:
At time of water scarcity and the lack of water resources in the Palestinian Jordan Valley (al-Ghoor), residents try hard to best use the available water in the area to guarantee their existence and continuity. Water resources became in hands of the occupation where Palestinians have no right to use them whatsoever.
The water spring of Ein el-Hilweh is one of the many confiscated water springs by the occupation in the area of the al-Ghoor, which residents cannot benefit from. On the contrary, colonists have the right to use it for their own favor after they fenced it.
It should be mentioned that since 01/01/2014, the resident of the area were deprived from using the water spring which affected them as well as their animals harmfully.
Farmer Ahmad al-Zamel who is shepherd from the Ein al_Hilweh said that he was banned to water his sheep from the water spring (500m from Miskiot) by colonists claiming it theirs. Noteworthy, the spring dates back hundreds of years and was a source of water to the whole area used for irrigation and animals watering. More than 1500 sheep and three Bedouin communities depend on it in the area of al-Malih.
On the other side, colonists enjoy water abundance and life standards in colonies and military camps spreading over al-Ghoor whereas Bedouins and their communities are still suffering. Atef Daraghmih to the LRC researcher said that: "it is the tragedy peak to be deprived from water, what does the occupation need after it dried out a number of water sources and confiscated the rest for the favor of colonies and military camps?".
He also added: "patrols of the occupation and the Civil Administration raided the residences in the area of Ein al-Hilweh many times to take over the residents' water tanks. Residents were beaten up at time they stood up to defend their tanks.
The occupying power has been conducting a new strategy to Judaizing the area of al-Ghoor and displacing its residents who resisted for more than 45years against such brutality. Ironically, the residents of the area are deprived from water by the state considered humanitarian state in the international community. Farmers were arrested frequently and fined with large amounts of money for planting their lands where water tanks were confiscated and fined as well. Residents of al-Ghoor have been always threatened of detention and arrest to be stopped from distributing water for the area. Where is the humanity the international talk about in that?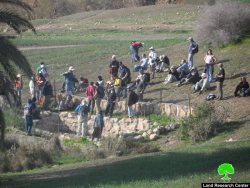 1+2: colonists taking over the water spring
Prepared by
The Land Research Center
LRC