Land use changes for 600 dunums of Jalud and Turmusayya lands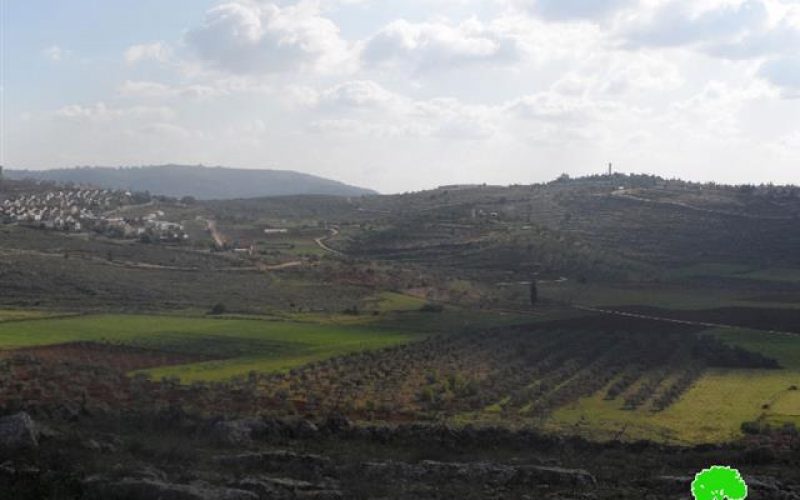 Violation: The Civil Administration decides to use 600 dunums of agricultural land in Jalud and Turmus'ayya for residential purposes in preparation for the establishment of Shiloh Great City
Location: The southern side of Jalud village and the northern part of Turmus'ayya town
Details: 13/02/2014
Victims: People of Jalud and Turmus'ayya
Details:
According to al Quds newspaper published on February 13, 2014 the so-called sub-inspection committee of the supreme organization council of the Civil Administration deposited a master plan of the project number 16/205 that includes changing the use of the targeted agricultural land that was confiscated by the Israeli occupation in 2001.
According to the advertisement, the targeted pieces of land are located between Shvut Rachel and Shiloh colonies, specifically natural blocks (basins) number 12 and 13 of 'Sara' and' Al Khafafesh' of Jalud lands and natural block number 3 in 'ash Sh'ab al Masri' location of Turmus'ayya land.

Picture 1: The advertisement featured in al Quds Newspaper, page no. 34
According to the ad, the use of the land will be changed as parts of it- once agricultural- will be exploited for public use where a road network, a building for the Israeli Ministry of Education, and Israeli cemetery will be constructed. The objectives of the plan according to the ad are as follows:
Modifying the uses of the land- from agricultural or forest land to an open area used for building public facilities and a cemetery and for opening roads.
Identifying the different uses of land
Delimiting and classifying a road network
Specifying the construction instructions and limitations within the project
Specifying the obligations in carrying out the project including conditions, phases of implementation, and stages of development.
Head of Jalud village council, Abdullah Muhammad, stated to an LRC observer that: "The area of the targeted pieces of land is about 600 dunums to which Palestinians are already denied access since the land is within the security borders of Shvut Rachel and Shiloh colonies. Colonists took advantage of that to change the nature and use of the land."
A plan to establish Great Shilo:
Mr. Ghassan Daghlas, the person in charge of the colonial file in the northern part of the West Bank, stated to an LRC observer that: "There is an old plan to erect the Great City of Shilo, same as Ariel. The planned city is meant to further solidify the stance of the Jewish presence in the West Bank and blow up all peace talks and settlement resolutions with Palestinians as the outposts of Givat Ariel in Shilo and Eli in Shvut Rachel and Adi Ad will be merged through infrastructure projects that ultimately lead to the establishment of the Great City of Shilo".
Shilo was constructed in the beginning of the 80s of the last century. It includes religious centers and a synagogue. The colony confiscated no less than 450 dunums of Qaryut lands.
Prepared by
The Land Research Center
LRC