Colonists uproot 70 olive seedlings in Yatta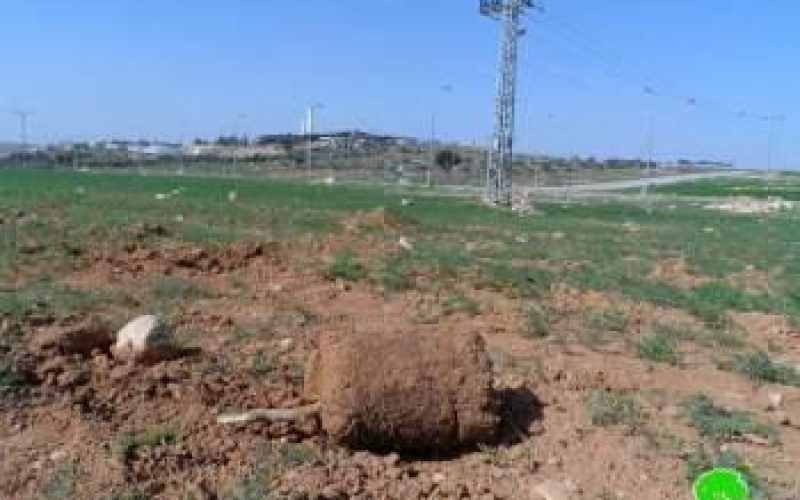 Violation: Destroying 70 olive saplings
Date: 12/02/2014
Location: Wadi As Sweid- Yatta- Hebron
Perpetrators: Colonists
Victims: Jamil Hushiya
Details:
On February 12, 2014, colonists uprooted 70 olive saplings belonging to Jamil Hushia in Wadi As Sweid, south of Yatta. Hushia stated that he visited his land on the mentioned date only to see the seedlings he planted a month ago uprooted. He called upon foreign pro-Palestine activists and the Israeli occupation police who showed up, witnessed the scene and asked he file a complaint at the police station in Kiryat Arba'.
Pictures 1-2: The damage scenes
Of the 200 olive saplings presented by the Palestinian Ministry of Agriculture to Hushia, the colonists uprooted 70. It should be mentioned that the targeted piece of land where the seedlings were planted is part of the 800- dunum area threatened to be seized by colonists of Susiya. The colonists actually took over part of the area and planted it with grapevines 10 years ago before an Israeli court ruled in favor of Hushia and ordered the colonists to evict it in 2010. The ruling was executed two years ago when colonists uprooted the grapevines. The land is east of Susiya and
According to Hushia, the court's verdict also bans colonists from having access to the land they were asked to return to Hushia. So the latter planted it with olive seedlings.
Prepared by:
The Land Research Center