The occupation destroys a number of barns in al-Jeftlik village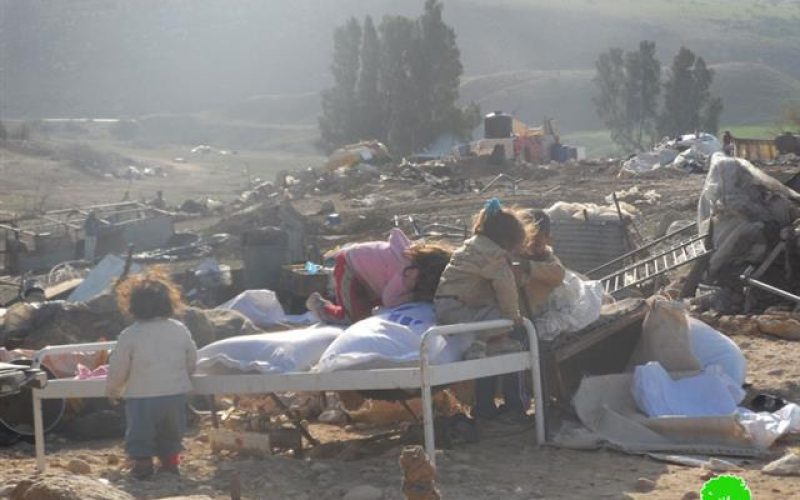 Violation: demolishing a number of barns and residential tents
Location: Jeftlik / Jericho governorate
Date: 29/01/2014
Perpetrators: the army of the Israeli occupation
Victims: four Bedouin families
Details:
The village of Jeftlik, east of Jericho has been recently witnessing a new series of demolitions and indigenous displacement. On 29/01/2014, a massive force of the occupation accompanied by a military bulldozer raided the village of Jeftlik from the eastern part and embarked demolitions that reached out four barns and two residential tents.
The following table shows information about the affected structures:
| | | | | |
| --- | --- | --- | --- | --- |
| Affected farmer | Family | Minors | Barn | Residential tent |
| Khalid Ka'bna | 7 | 4 | 1 | 1 |
| Ibrahim Ka'bna | 5 | 2 | 1 | 1 |
| Fahmi Ka'abna | 4 | 1 | 1 | 0 |
| Atta Ka'bna | 9 | 4 | 1 | 0 |
| Total | 25 | 11 | 4 | 2 |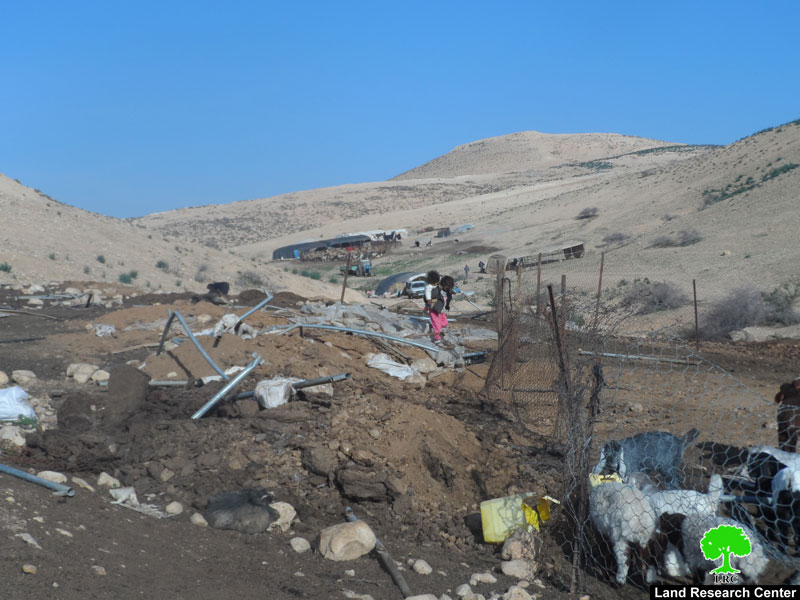 It should be marked that the village of Jeftlik still lacks a master plan due to the severe laws and regulations of the Israeli occupation that refuses to approve on it. Still, the occupation denies residents permits and licenses under the pretext of construction within area classified C according to Oslo Accords, which means that the area is under the fully authority of Israel.
It is worth mentioning that most of al-Jeftlik houses are made of clay and bricks where the rest are made of hay and wood. The deputy of the village council to the LRC researcher said: "we had no chance to protect our lives and our simplest rights to living and housing. We became deprived from basic needs and life standards such like electricity and water where the occupation destroyed a lot of water wells and confiscated the rest. As result, we only get water when the occupation wants".
Noteworthy, the village of Jeftlik witnessed, during the past three years, more than 39 demolition orders on residential and agricultural structures under the pretext of unlicensed construction, taking into consideration that the occupation itself does not issue construction permits. Those kinds of harassments aim at forcing residents to leave their properties but they actually don't. "All the occupation plans will eventually fail because there is a strong bond between the lands and farmers for it is the heritage of fathers and grandfathers" Walid Ka;bna said.
Prepared by
The Land Research Center
LRC