Stop-Work-and- Construction Order on a Residence in Al Khader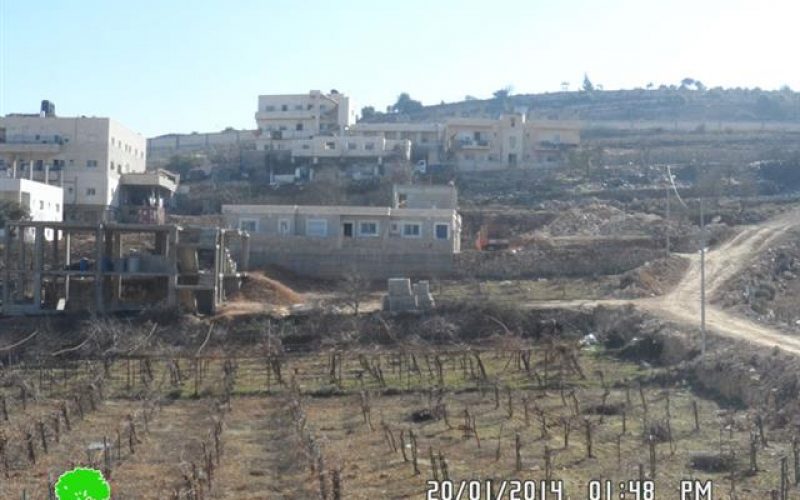 Violation: a stop-work order for a house under construction.
Location: Abu Sud neighborhood in al Khader – Bethlehem.
Date: January 16, 2012.
Perpetrators: the Israeli Occupation Civil Administration- The Supreme Council of Inspection Sub-Committee.
Victim: Ali Issa.
Details:
On January 16, 2014, Israeli troops broke into Abu Sud Mountain in al Khader and handed Ali Issa a stop-work order designated for his 170-m2 residence. The order was issued on the pretext of unlicensed construction in area classified 'C' according to Oslo. The house, built over a half-dunum-plot, is still under construction. The table gives information about the Issa family:
| | | | | | | |
| --- | --- | --- | --- | --- | --- | --- |
| Name | Family | Structure | Area | No. of floors | Year of construction | No. of notification |
| Ali Ahmad Issa | 12 | House | 170m2 | Two floors | 2013 | |
According to the notification no. (160719), the owner is asked for an immediate halt of any construction work and it is stated that a court session of the Inspection Sub-Committee would be held on February 12, 2014 to consider whether to "demolish the structure or to return it to its original status".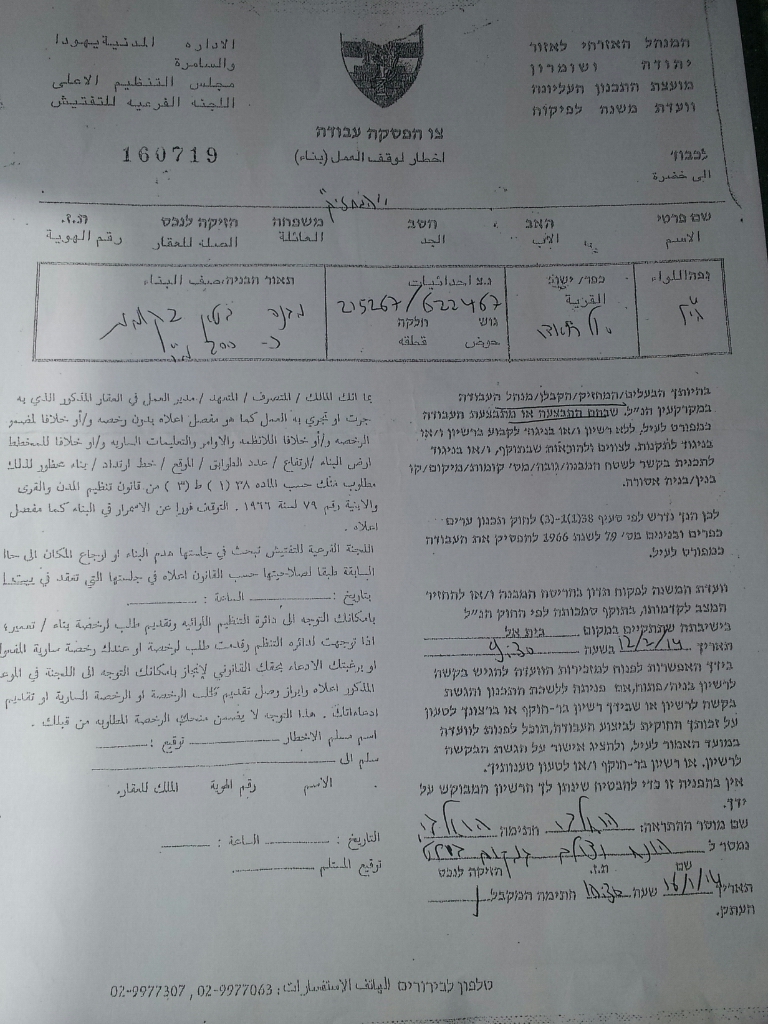 Picture 1: The order received
The owner stated to LRC field researcher that:"the Israeli Occupation Authorities handed me a stop-work order for my residence; it is my land and my house; I would never give up on my house and I shall continue construction and will do all the required procedures in order to ensure that".
Pictures 2+3: The threatened residence.
It is worth mentioning that the notified house is only a few meters away from the Segregation and Separation Wall, that has secluded thousands of dunums owned by Palestinian people from al-Khadr village.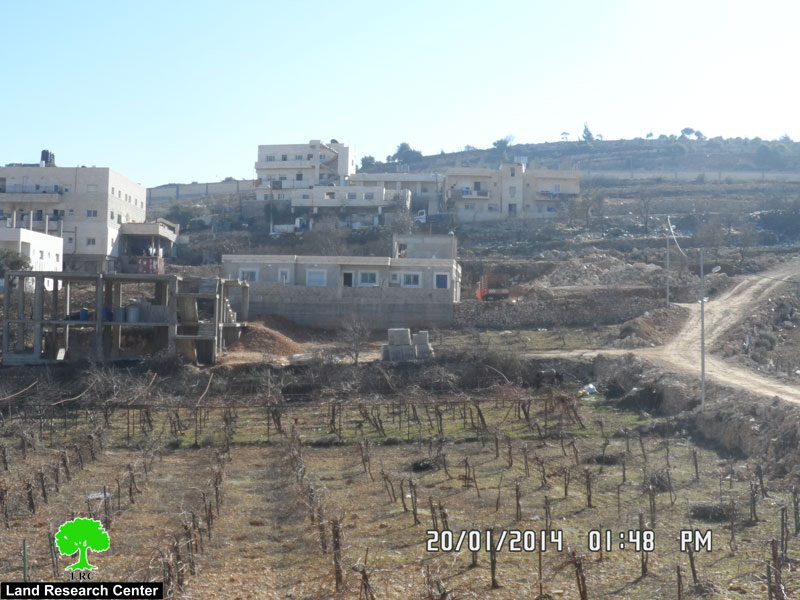 Picture 4: The proximity of the Wall to the notified house
Issa also said that: "I am building the house for my children; I want to provide them a secure shelter. There is no other place where I could build. This house is built on the land I inherited from my father. The Israeli occupation has no right to deny me what is mine."
Located 4 kilometer west of Bethlehem, Al Khadr village is surrounded by Beit Jala and Battir (north), Husan and Nahhalin (west), Ad Doha, Wadi Rahall, and Beit Jala (east), Wadi An Nais (south).
Al Khadr has a population of 9774 according to statistics conducted in 2007. It has a total area of 8279 dunums, 184 of which are built-up area.
The Israeli occupation confiscated 29 dunums of Al Khadr lands for Efrat and Daniel colonies. Efrat was built in 1979 and devoured 5.8 dunums of Al Khadr. It is inhabited by 7037 colonists. Daniel was built in 1982 and confiscated 23 dunums. 1073 colonists live in the colony.
Bypasses number 60 and 375 devoured more than 487 dunums. Not to mention the Apartheid Wall that destroyed 280 dunums and isolated 5638 dunums of the village. The Wall in Al Khadr is 2805 meters long.
According to Oslo Accords, 10% of Al Khadr is under Area A (PA has full civil and security control) while 6% is under Area B (PA is in charge of civil matters with Israel responsible for security). However, most of the village lands (84%) is under Area C (Israel maintains full security and administrative control). Here are the area in dunums:
Area A (808) dunums
Area B (475) dunums
Area C (6996) dunums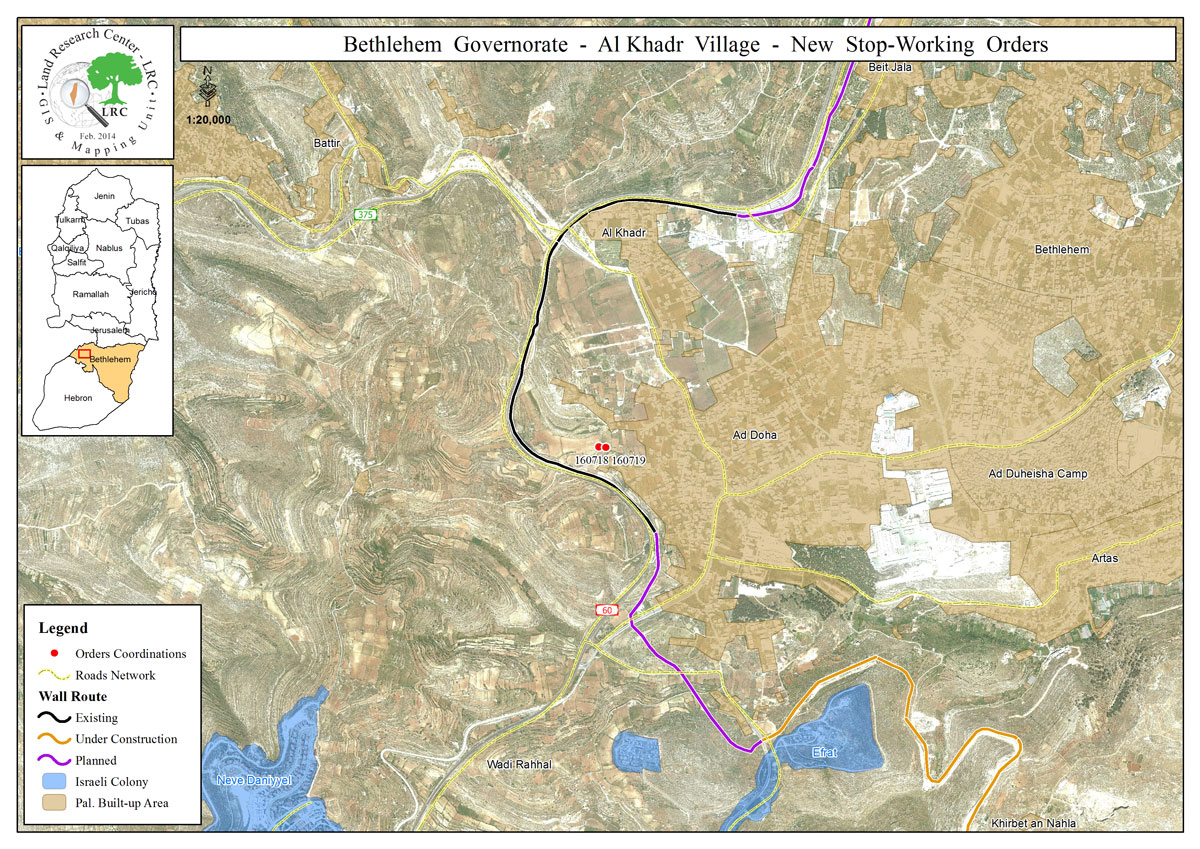 [i] Source: Geographic Information System- Monitoring Israeli Violations Team- Land Research Center
Prepared by
The Land Research Center
LRC