Demolition of a number of tents and sheds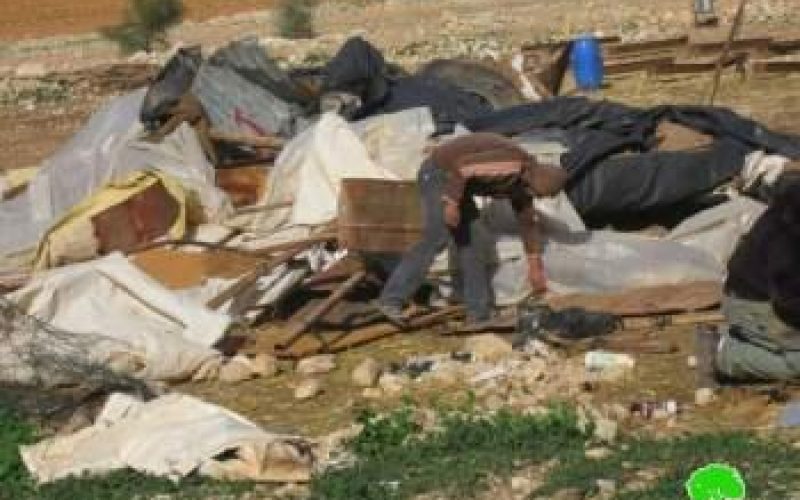 Violation: The Israeli occupation destroyed structures
Location: Khirbet Karzaliya, Aqraba town, Nablus governorate
Date: January 12, 2014
Perpetrators: The Israeli occupation army
Victims: Five Bedouin families
Details:
On Sunday, 12/0/2014, the Israeli occupation leveled 10 residential and agricultural structures in Khirbet Karzaliya, east of Aqraba. At 6 a.m., a large force of the Israeli army riding seven military jeeps and a bulldozer broke into Karzaliya, a Bedouin community, where the heavy machine embarked on leveling the structures due to a lack of building permits.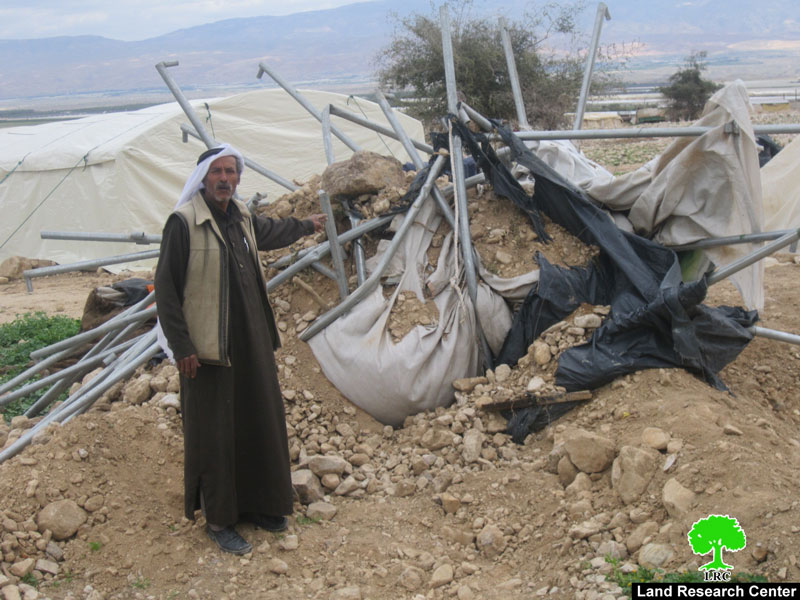 Pictures 1-3: Khirbet Karzaliya
The structures razed were 6 living tents and 4 sheds used as barns belonging to 5 Bedouin families in the Khirbet. The demolition operation resulted in the displacement of 32 people, including 15 children. The following table gives information about the last demolition operation in Karzaliya:
Citizen

Family

Children

Cattle

Structure

Tent

Barn

Others

Saed Bani Maneh

8

4

110

2

1

Kitchen+ bathroom

Fazi' Bani Maneh

7

3

70

1

1

Kitchen+ bathroom

'Awni Bani Jaber

8

3

84

1

1

Kitchen+ bathroom

Ahmad Bani Jaber

4

2

—

1

–

kitchen

Muhammad Bani Jaber

5

3

15

1

1

kitchen

Total

32

15

279

6

4

5 kitchens + 3 bathrooms
The families that were displaced after they lost their tents and sheds had received a demolition notice in July 2013 on the grounds that the structures had been built without building permits in an area classified "C" according to Oslo Accords.
Karzaliya is 4km east of Aqraba and is inhabited by 1300 people who originally hail from Aqraba. The residents of Karzaliya have the deeds for the lands they own but the Israeli occupation does not acknowledge the Khirbet and try its best to kick people out and seize their agricultural lands.
Prepared by
The Land Research Center
LRC