Colonists of Karmiel attack a tabun
Violation: Attempts at destroying a tabun (bread oven)
Location: Khirbet Umm al Khair- Yatta/ Hebron governorate
Perpetrators: Colonists of Karmiel
Victims: 40 people of al Hathalin family
Details:
Operating within the framework of violence and harassment of residents of Khirbet Umm al Khair, east of Yatta, colonists of Karmiel have been attacking a tabun, an oven built with clay and gravels and mainly used for baking bread. The tabun belongs to al Hathalin family, 40 people who depend on the oven to make bread.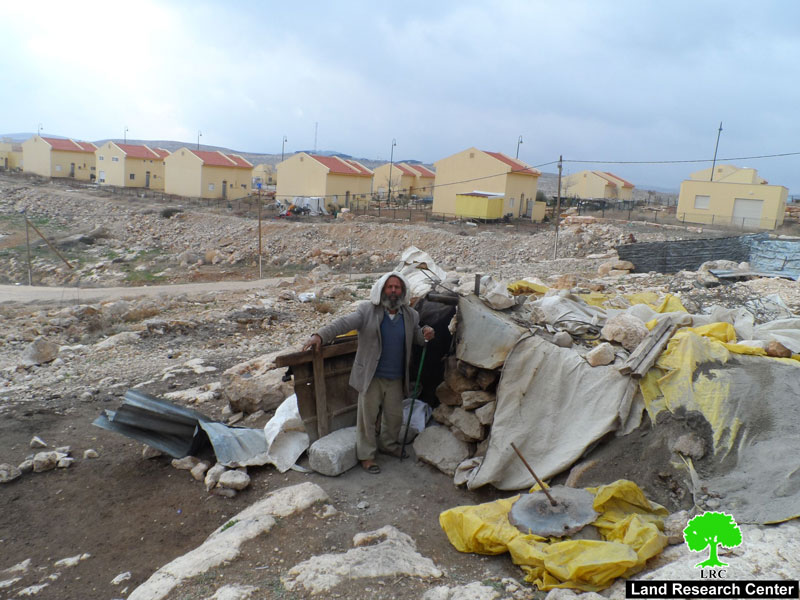 Pictures 1-3: The targeted tabun
Colonists have used various excuses in order to get rid of the oven. They claim the smoke coming out of it annoy them and they filed a complaint to the Israeli police regarding the matter. After debate, an Israeli court ruled against the demolition of the tabun, according to Sueliman al Hathalin.
The colonists, not happy with the ruling, decided to take matters into their own hands. They threw water at the oven in order to quench the fire in it, threw stones at the women baking, and broke into houses.
A number of the Israeli army visited the location of the tabun after they received complaints from the nearby colonists who use different excuses to serve their purposes of harassing people and forcing them out. It should be marked that the colony of Karmiel was founded on Umm al Khair lands and has recently seized a private Palestinian property.
To read more about the attacks carried out by colonists and the Israeli occupation authorities on Khirbet Umm al Khair, kindly check out the following links:
http://www.poica.org/editor/case_studies/view.php?recordID=6371
http://www.poica.org/editor/case_studies/view.php?recordID=6386
http://www.poica.org/editor/case_studies/view.php?recordID=4981
http://www.poica.org/editor/case_studies/view.php?recordID=6443
http://www.poica.org/editor/case_studies/view.php?recordID=2907
http://www.poica.org/editor/case_studies/view.php?recordID=1731
http://www.poica.org/editor/case_studies/view.php?recordID=4178
http://www.poica.org/editor/case_studies/view.php?recordID=4127
http://www.poica.org/editor/case_studies/view.php?recordID=3532
http://www.poica.org/editor/case_studies/view.php?recordID=2243
Prepared by
The Land Research Center
LRC