A stop work order served on electricity poles in Bethlehem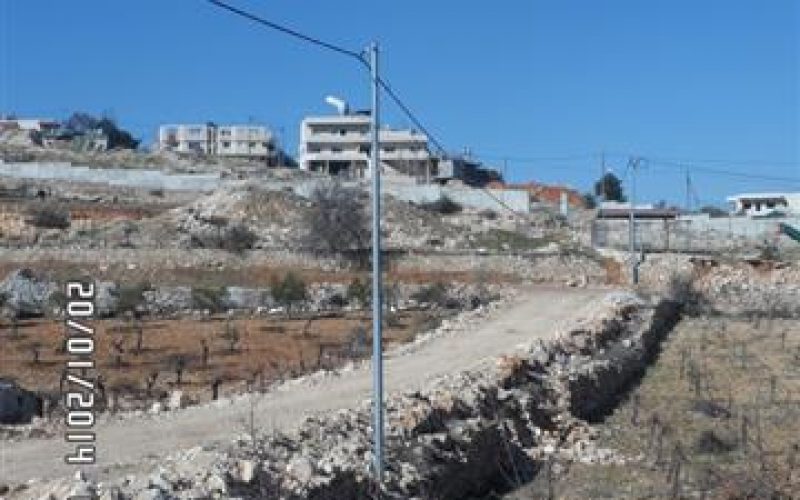 Violation: notifying electricity poles with demolition
Location: al-Khadeer/ Bethlehem governorate
Date: 16/01/2014
Perpetrators: the Inspection Sub-Committee of the Supreme Council- Civil Administration
Details:
On 16/01/2014, the occupation troops accompanied by the Israeli Civil Administration raided the location of Jabal Abu es-Soud in al-khadeer and served the municipality a stop work order on electricity poles that were installed by Jerusalem Electricity Company JDECO several months ago. The pretext came under unlicensed construction within area classified C according to Oslo Accords.
The order no.160718 said that: "the electricity poles were installed without any permit therefore the occupation asked the municipality of al-khadeer to immediately terminate the work. The inspection Sub-Committee assigned 12/02/2014 as a final date for its court session to consider demolishing the structure or to leave it to its original status"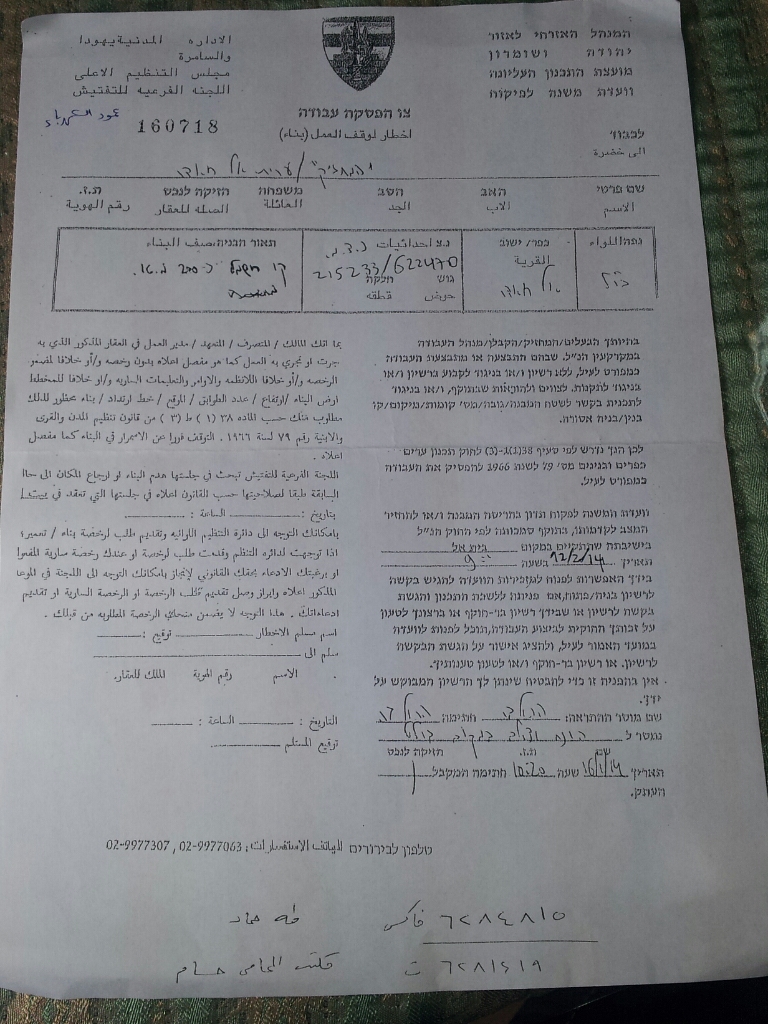 Photo1: the order no.160718

The mayor of al-Khdeer municipality Tawfiq Salah to the LRC researcher stated that: "the poles provide electricity to all residents of Jabal Abo es-Soud area knowing that they were recently installed. We, as the municipality, try to stop dismantling the poles for what they have of importance to the area".
It should be mentioned that at time of raiding Jabal es-Soud , clashes broke out between the residents and the occupation troops.
Resident Ahmad Salah asserted: "we rejoiced when we got electricity provided for our houses but the occupation came to destroy that happiness by notifying the poles to be uninstalled. That is how the occupation harasses us to leave out of our area".
Prepared by
The Land Research Center
LRC