A Palestinian farmer is physically assaulted by colonists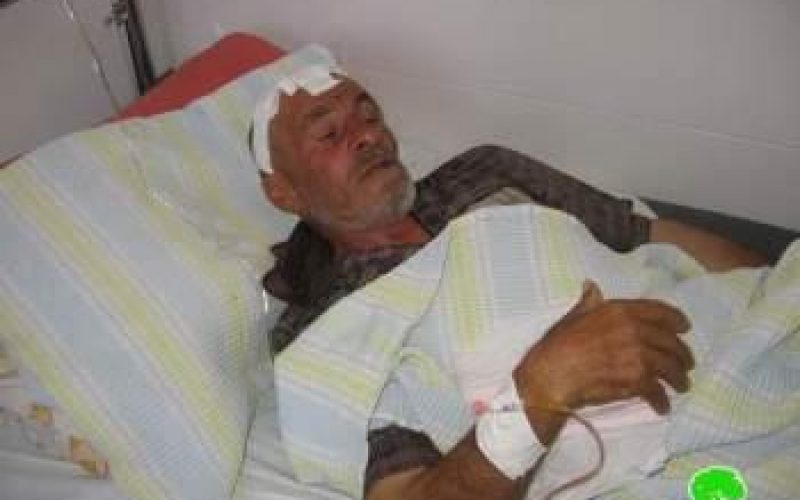 Violation: Beating an elderly village man
Date: 05/01/2014
Location: Beir Al 'Ad- Yatta – Hebron
Perpetrators: Colonists of Mizpe Yarer
Victims: Ismael Al 'Adra
Details:
Colonists of Mizpe Yarer attacked a 65-year-old farmer named Ismael Al 'Adra from Khirbet "Beir Al 'Ad" while plowing his land. Muhammad Al 'Adra, a nephew of Ismael, asserted that his uncle was riding a horse and plowing his farmland with the help of his four kids when two colonists from Mizpe Yarer blocked his view and tried to get the horse out of the field. The two were soon followed by seven others who physically attacked Ismael and his sons. And when Ismael tried to respond in self defense, he was beaten with sticks in his stomach and face, broking his nose. Confrontations erupted between the colonists and Ismael's family.
One of Ismael's nephews called the Israeli police that showed up at the place accompanied with the Israeli occupation army and Civil Administration. They surrounded the area, shooed the colonists away, and arrested Ismael along with his four sons.
Al 'Adras were transferred to Ofer Prison. The sons were released after spending 3 days in jail and paying a NIS 1000 fine while the father is still in prison- up to the moment of writing this report. It should be marked that Ismael Al 'Adra owns 150 dunums of land in Al Looza near Beir Al 'Ad and he and his property are under constant attack by colonists.
Al 'Adra had been physically harmed by colonists before the last attack. On August 27, 2013, Al 'Adra was injured and hospitalized.
Prepared by
The Land Research Center
LRC