Shutting down the entrance of Azzun town again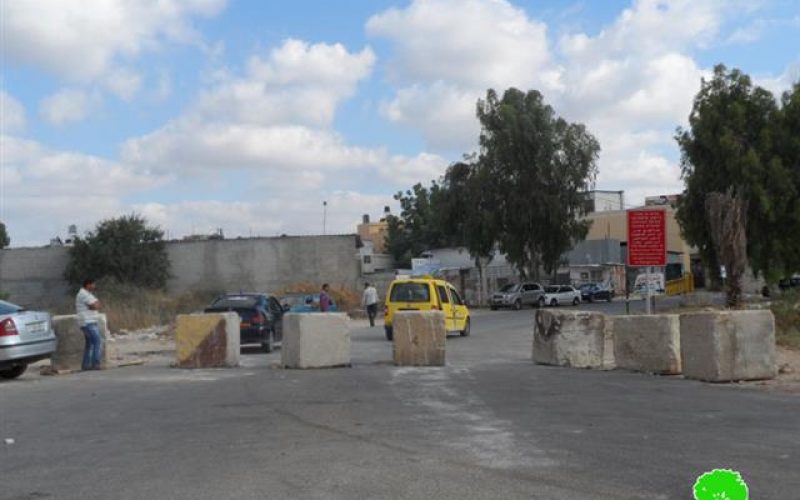 Violation: closing Azzun's entrance again
Location: east of Azzun town
Date: 26/12/2013
Victims: the residents of the town and the neighboring towns
Details:
On 26/12/2013, the Israeli occupation closed the northern entrance of Azzun town by setting up cement blocks to guarantee best closure on the place. The entrance is very crucial for it links the town with the bypass road no.55 and is considered a linking point between the town and Qalqilya and other surrounding towns. Noteworthy, this closure is the third one during the past couple of years; more specifically since the outbreak of second Intifada.
About Azzun:
It is located 8km from the city of Qalqilya. The town has a total area of 9,472 dunums of which 1,054 is built-up area and has a population of 7,821 until 2007.
The occupation confiscated large area of the town lands for the favor of the following colonial plans:
Ma'ale Shomron: it was established in 1980 and confiscated more than 276dunums from Azzun.
The bypass road no.55: it confiscated more than 4173m of the town's lands
The apartheid wall: it was built on a large area of land and segregated more than 1,205 dunums of lands.
It should be mentioned that the lands of Azzun town are classified as area C , which is in other words under the full authority of the occupation and has no A classification of lands in it. Its lands car classified as follows:
2,546 dunums are classified as area B
6,927 dunums are classified as area C
Prepared by
The Land Research Center
LRC