Demolition of residential structures and pens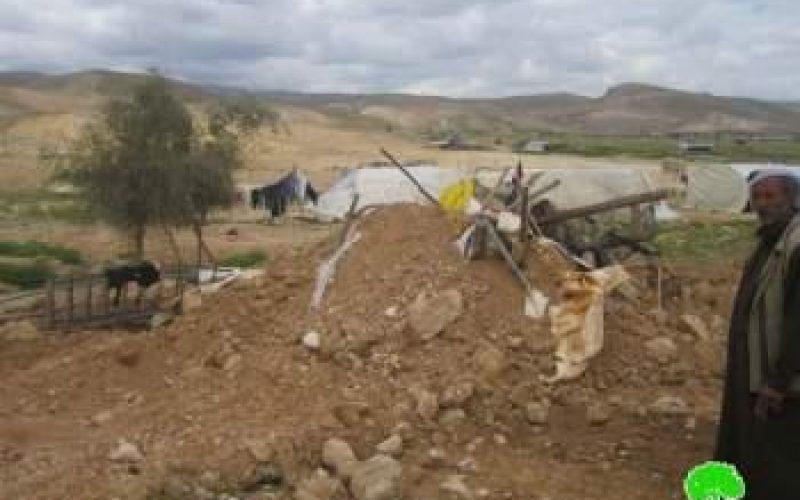 Violation: The Israeli occupation demolished a number of residential structures as well as sheep pens
Date: 10/ 12/2013
Location: Fasayil al Fauqa- Jericho governorate
Perpetrators: The Israeli occupation army
Victims: Two Bedouin families
Details:
For a third time respectively, the Israeli occupation authorities embarked on demolishing structures in Fasayil al Fauqa village, north of Jericho. The last demolition operation taken place on December 10, 2013, and carried out by Israeli forces targeted three tents in addition to two pens. It is worth mentioning that the Israeli occupation took advantage of the chilly weather in executing the demolition plans and working as a source of pressure on Palestinian farmers to make them leave out the place for good without any plausible excuse.
Pictures 1-2: The demolition operation carried out in Fasayil al Fauqa
The table gives information about the damage ensued the last demolition operation:
Affected farmer

family

children

Damage

Notes

Residence

Pen

Other

Saed Ar Rashayda

9

6

2

1

1 kitchen

Demolished for a 3rd time

Dayf Allah Ar Rashayda

11

8

1

1

—

Demolished for a 3rd time

Total

20

14

3

2

1
The demolition operation harmed two Bedouin families consisting of 20 people including 14 children less than 18 years old. The children witnessed three demolition operations in front of their eyes.
The Israeli occupation does not acknowledge Fasayil which is built on state-owned Jordanian lands. The inhabitants originally come from the 1948 occupied land. They were evicted by force to the West Bank where many of them settled in Fasayil to search for a job and make a living. Fasayil is an object of recurrent demolition and evacuation operations by the Israeli occupation. They are also deprived from the basic services like water and electricity. They are forced to buy water, 15 NIS for a 1 m3 . People of Fasayil are drained by poverty, hunger and the nonstop Israeli attacks.
Fasayil is 23 km north of Jericho and its built-up area is 194 dunums only. Fasayil has a population of 1132 (according to Palestinian Central Bureau of Statistics in 2010). It is surrounded by a number of illegal Israeli colonies that limit the expansion of the village and deprive its inhabitants from having a normal life.
From the north, Fasayil is surrounded by colonies of Yafit and Pezael (Fezael), Tomer and Gilgal and Netiv Hagedud from the south in addition to a bypass that links the northern colonies with the southern ones.
Prepared by
The Land Research Center
LRC