Ravaging eight agricultural dunums in Ras Atiya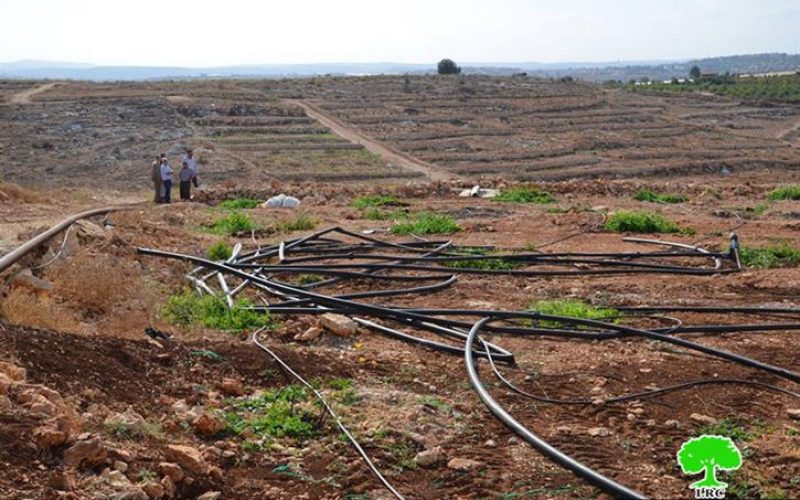 Violation: The Israeli occupation ravaged 8 dunums of agricultural land
Location: Ras 'Atiya- Qalqiliya governorate
Date: 29/11/2013
Victims: Muhammad Fahmi Nazal
Perpetrators: The Israeli occupation army
Details:
Ras 'Atiya village, south of Qalqiliya, witnessed a yet ferocious attack by the Israeli occupation army. The occupation wants to take over all agricultural lands including trees. They uproot trees and steal what can be stolen.
On November 28, 2013, the Israeli occupation army accompanied by two bulldozers and three military jeeps raided Ras 'Atiya where the bulldozers ravaged 8 dunums of agricultural land planted with olive, guava, and citrus aged 3 years.
At the same context, the Israeli forces were not content with uprooting the saplings only but they also stole them and moved them to nearby Alfei Menashe colony. The targeted land is near the colony of Alfei Menashe. That is why the Israeli occupation justified the ravaging by saying that the targeted land is within what is so called "state property".
Pictures 1-4: The damage resulted of ravaging the agricultural land
The table gives information about the damage ensued by the last attack of the Israeli occupation in Ras 'Atiya:
Farmer

Family

Children

Area of the land

Length of irrigation pipes

No. of uprooted and stolen trees

olive

guava

citrus

Muhammad Nazzal

8

4

8

260m

44

80

30
Ras 'Atiya is 12 km south of Qalqiliya. The area of its agricultural lands reaches up to 2083 dunums, 1000 of which were confiscated for the sake of expanding nearby "Alfei Menashe".
Ras 'Atiya has a population of 1890 people who mainly depend on agriculture to get a living.
Prepared by
The Land Research Center
LRC