Destroying olive seedlings in Turmusayya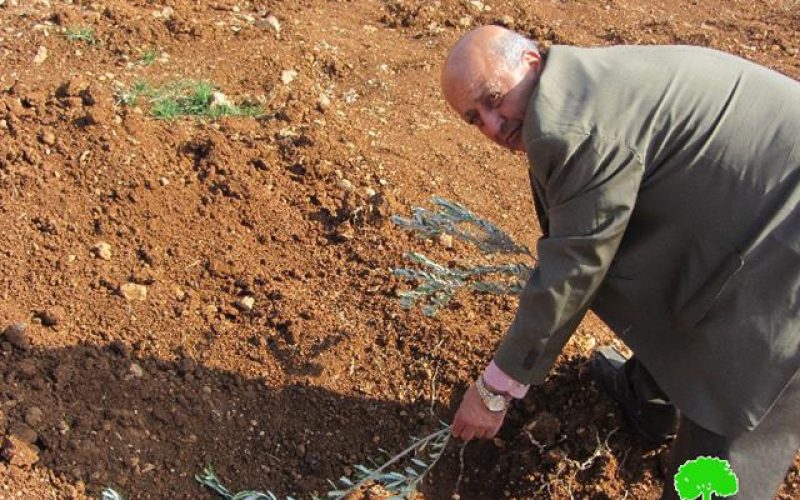 Violation: damaging 60 olive saplings
Date: 15/11/2013
Location: Khallet Sabha
Perpetrators: Shilo colonists
Victims: farmer Sa'id Abdallah
Details:
On November 15th 2013, a group of colonists from Shilo, which is located on the lands of Turmus'ayya, northeast of Ramallah cut down 60 olive seedlings aging 2 years and deliberately damaged them. The targeted land is of 3 dunums in area and is located in the area known as Khallet Sabha that is 1km away from Shilo colony.
The aggrieved trees belong to citizen Sa'id Abdallah(58) from the village who supports a family of 6 members. On November 2013, the famer had cultivated his land for the sake of protecting it from colonial expansion interests and attacks.
Sa'id , about the attack, to the LRC researcher devastatingly said the following: " a year ago, I planted my land, which is threatened of confiscation by the occupation for the sake of protecting it and prove my identity and ownership of the place. Unsurprisingly, colonists attacked my land and damaged the 60 olive seedlings. I bought those trees by my own money and regularly irrigated them to stand as a sign of my existence on the land I inherited by my grandfathers"
He also added: "despite all attacks and violations , I insist on staying on my targeted land to protect it knowing that the area of Turmus'ayya is hot area in terms of recurrent attacks carried out by colonists who aim at looting the land and change its landmarks; in other words Judaization "
Photos 1-2: the targeted seedlings in Turmus'ayya
About Turmus'ayya:
It is located 25 km to the north east of Ramallah city. It has a population of 3736 people (according to a 2007 census). Its total area is 18139 dunums, 1350 of which are built-up area. About 11218 dunums of land are under Area B (PA is in charge of civil matters with Israel responsible for security) and 6921 dunums are under Area C (Israel maintains full security and administrative control).
The Israeli occupation confiscated vast areas of the village for the benefit of the following colonies:
Shilo and Mizpe Rahel devoured 1023 dunums
Mizpe Rahel devoured 706 dunums
The bypass road number 60 stole 12.5 dunums
Prepared by
The Land Research Center
LRC