Demolishing a barrack and water cistern in Nablus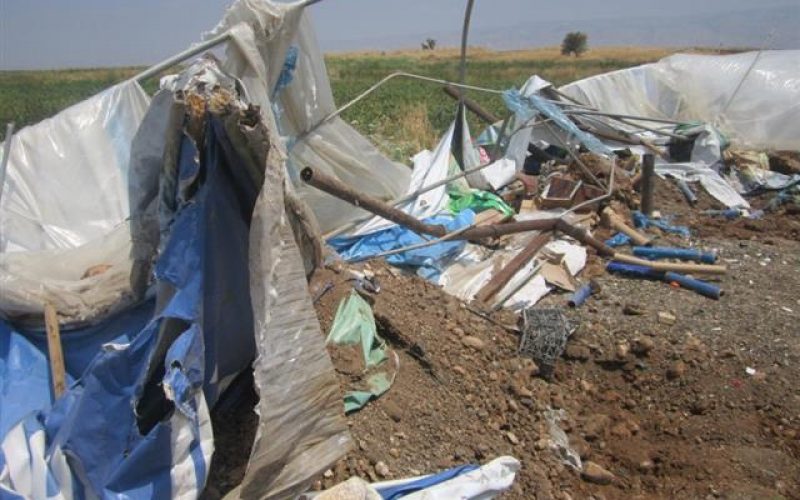 Violation: the occupation destroys a barrack and a water well
Date: 20/11/2013
Location: Khirbet al-Taweel
Perpetrators: the army of the Israeli occupation
Victims: farmers Imad Bani Minieh and Marwan Bani Jaber
Details:
In a period of less than a month from the latest demolition inflected on al-Taweel village, east of Aqraba, the bulldozers of the occupation accompanied by 10 military jeeps carried out on November 20th 2013 a demolition that reached out a water cistern and a barrack used for livestock husbandry.
The 180m3 cistern (a pool-shaped cistern for water harvesting) was built five years ago, belonging to farmer Imad Bani Minieh. The pool has been serving 27 dunums planted with vegetables and irrigated crops and more than 900 sheep.
It is indicated that this is the second time Imad's farm has been targeted by the occupation. On October 29th 2013, the occupation destroyed a 40m2 agricultural room that was used as a storehouse for fodder and other equipments.
In the same context, the troops of the occupation leveled a agricultural barrack owned by famer Marwan Bani Jaber. This structure was used to shelter 250 sheep owned by the same farmer. The following table shows information about the owners of the structures:
| | | | | | |
| --- | --- | --- | --- | --- | --- |
| Affected farmer | Family | Minors | No. of sheep | Area | Status |
| Imad Bani Minieh | 8 | 5 | 170 | 180m2 | A water pool |
| Marawan Bani Jaber | 9 | 3 | 250 | 300 m2 | Barrack |
| Total | 17 | 8 | 420 | | |
Field observation- Monitoring Israeli Violations Department- Land Research Center-2013

The member of Aqraba village council Ayman Bani Jaber to the LRC researcher said: " the occupation is aiming at displacing indigenous through demolishing their houses and filling their water cisterns with dirt on which they rely to irrigate their fields. Those people mainly depend on agriculture and animals husbandry. Noteworthy, during the past five years, a total of 8 demolition operations were carried out on a number of structures in al-Taweel".
About al-Taweel:
Khirbet al Taweel that follows Aqraba town is inhabited by settled civilian residents and not nomads. There are 27 families comprising 168 people who live in Khirbet al Taweel lands that they inherit from their ancestors.
Though al Taweel is 17, 000 dunums in area, only 2,000 dunums is used by the residents. The rest got confiscated for the benefit of Gettit, Maale Efrayim, and Itamar colonies. Let alone that most of al Taweel lands became Israeli-declared closed military zones.
Prepared by
The Land Research Center
LRC