Tightening the siege around 'Azzun 'Atma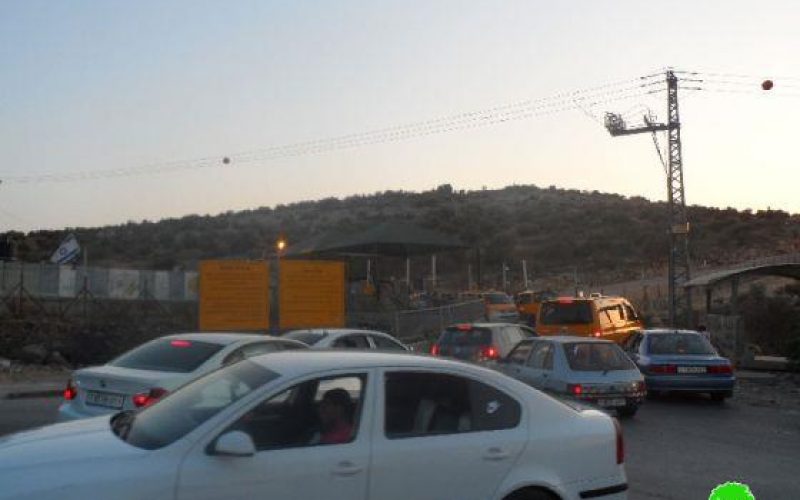 Violation: Tight siege around the village
Location: 'Azzun 'Atma/ Qalqiliya governorate
Date: 01/10/2013
Perpetrators: The Israeli occupation army
Victims: People of 'Azzun 'Atma village
Details:
After the murder of a colonist near Beit Amin village last September, the Israeli occupation forces imposed strict restraints at the gate of 'Azzun 'Atma, the only gate that links the village with Palestinian surroundings.
For more than 2 weeks, Israeli soldiers were stationed at the gate and imposed strict regulations before allowing anyone out of the village to enter. According to the town council, the closure harmed 46 students from nearby Beit Amin who come to study in 'Azzun 'Atma, not to mention the economic damage caused to the already deteriorating economy due to the siege. All the service sectors in the village were put into halt due to the obstacles that hinder the Palestinians' movement.
Amjad Omar (37 years old) told an LRC observer that, " I work in trading goods. As I was heading into the village in a vehicle full of needed goods, Israeli soldiers unloaded the vehicle though they already knew I only carried goods and nothing else that could pose a source of danger to them. They took a long time and that made me late and when I asked them why they were keeping me late, they beat me so hard my face bled and I had bruises all over my body."
This is not the first time the Israeli soldiers harass residents of the village through the gate. Since its construction in 2003, the gate has witnessed beatings and harassment by the Israeli occupation. What happens at the military gate is considered a breach of human rights on daily basis.
About 'Azzun 'Atma:
3 km east of the Green Line, 'Azzun 'Atma is an occupied Palestinian village. It has a population of 1783 people who mainly work in agriculture (about 80% of the population) and some (15%) work inside Israel. The rest work in commerce and other jobs.
The total area of the village is 8081 dunums, 336 dunums of which are built-up area. (Source: 'Azzun 'Atma's village council).
The colonies surrounding the village:
Shaare Tikva (the northern eastern side of the village) which was built in 1982 and has a population of 3709 colonists (according to a 2005 census). The houses of the colony are very close to the houses of the village. Barbed wires surround the village from the east and north. The colony seized over 1500 dunums of lands from 'Azzun 'Atma and nearby villages (Beit Amin, Sanniriya, Mas-ha, and Az Zawiya). The lands are planted with olive and almond trees as well as grain.

Oranit (west of the village) which was built in 1984 and has a population of 5585 colonists (according to a 2005 census).The colony is surrounded by barbed wire siege.

Elkana (east southern side of the village) was built in 1977 and has a population of 2963 colonists (according to a 2005 census).

Etz Efrayim (east of the village, between Shaare Tikva and Elkana) was built in 1985 and has a population of 624 colonists (according to a 2005 census)
---
source: Foundation for Middle East Peace- Washington, D.C.)