The Israeli occupation closes the entrance of Burqa village in Ramallah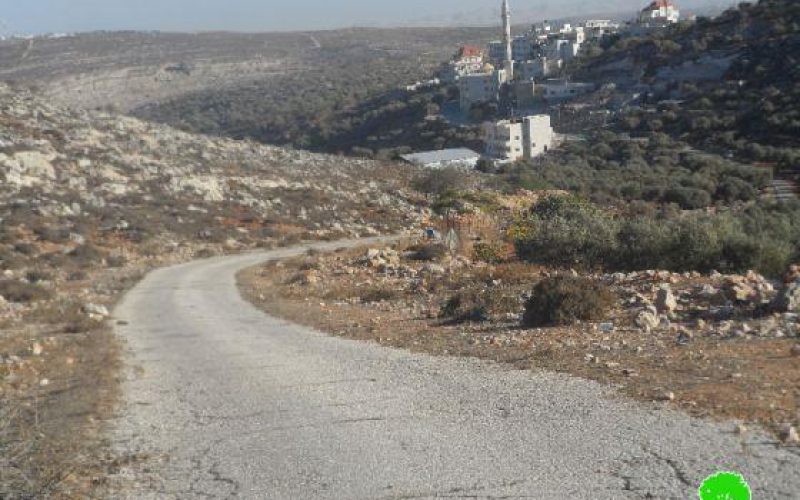 Violation: Closure of Burqa entrance
Perpetrators: The Israeli occupation army
Victims: People of Burqa
Details:
Since the second Intifada in 2000, the Israeli occupation has intensified their racial attacks that affect all aspects of Palestinians' life. Collateral punishment has been of the most effective punishment tools used by the Israeli occupation.
Burqa, north east Ramallah, is one of the villages that are under constant attack. Since 2000 and till now, the Israeli occupation keeps shutting off the main road that links Ramallah with Al Beira.
The road is still closed and people have to take alternative road starting from Burqa to Deir Dibwan to Beitin to 'Ein Yabrod to Dura al Qar' to Al Jalazun camp then to Surda and Abu Qash to finally reach Ramallah. Other than being exhausting and expensive, the road takes more than 18 km to reach Ramallah.
Pictures 1-2: The closed road
The head of Burqa village council, Mr. Ahmad Barakat, affirmed to an LRC observer that,
" In 2008, the village council proposed a request to the Supreme Court of Israel to reopen the road. We have not heard from them since then."
He also added,
"The main road leading to Burqa is one of the oldest roads in the region, built 80 years ago, i.e., before the Israeli occupation. For the benefit of their own interests and colonial expansions, the Israeli occupation would not open the road.
Jaber Mi'tan, 41 years old, recounted the story of Wafa' Deiriya, a 62 years old citizen of a nearby village who died at the entrance of Burqa due to her being prevented from entering the village by the Israeli occupation. The old woman was suffering from a heart attack and died on the spot.
Wafa's story reflects the suffering inflicted on Palestinians by the Israeli occupation that breaches all human principles and human rights agreements.