Destroying Makhoul for the fourth time in less than a month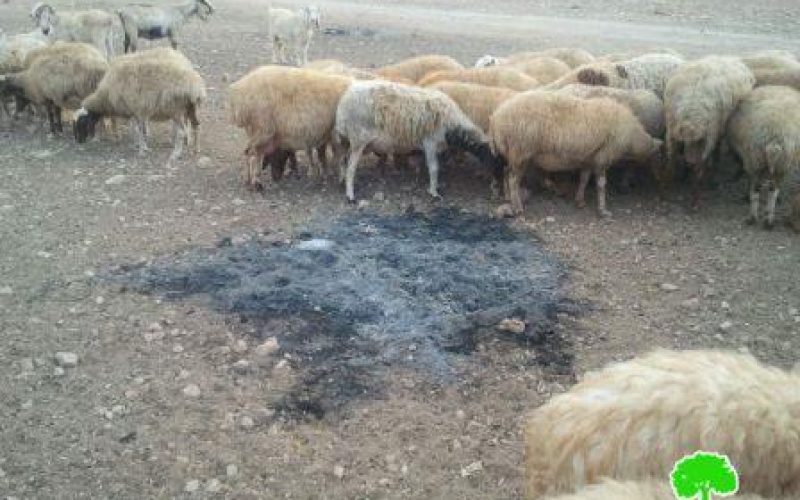 Violation: Destroying Khirbet Makhoul for the fourth consecutive time
Date: 03/10/2013
Location: Makhoul- Tubas governorate
Perpetrators: The Israeli occupation army
Victims: 3 Bedouin families consisting of 15 people, including 6 children
Khirbet Makhoul, at the heart of the Jordan Valley, has witnessed yet another wave of racist attacks perpetrated by the Israeli occupation army aiming at kicking people out of their homeland. The army carried out destruction operations in Makhoul, the latest of which happened on 03/10/2013.
At 2 o'clock a.m. on Thursday, 03/10/2013, a big force of the Israeli army along with officers of the so-called Civil Administration and a dozer raided Khirbet Makhoul where they demolished a number of tents donated by human organizations to provide shelter for people of Makhoul who are attacked every now and then by the Israeli occupation over the place they have been living in for 10 years.
The new demolition operation took place after less than 3 hours of setting up relief tents. A number of local and foreigner supporters helped people of Makhoul set up the tents which the Israeli army was determined to attack.
Pictures 2+3: Burnt tents by the Israeli occupation
Israeli soldiers dismantled the tents and confiscated the metal poles used in fixing the tents.
The table gives information about the new structures targeted in Makhoul:
| | | | | |
| --- | --- | --- | --- | --- |
| | | | | |
| | | | | Burning 2 tents (120 m2) and confiscating their poles |
| | | | | Burning a 60 m2 tent and confiscating its poles |
| | | | | Burning a 60 m2 tent and confiscating its poles |
| | 15 | 6 | 470 | 4 |
*Source: Field Research- Monitoring Israeli Violations Team- Land Research Centre (LRC).
Makhoul is set as an example of a place where the Israelis commit the worst of crimes aiming at forcing people out in order to take it over and annex it to the colonial activity taking place in the area.
People of Khirbet Makhoul descend from nearby Tammun and Tubas. They depend on sheep grazing as their only occupation.