Colonists of Gilad Zohar destroy 95 olive seedlings and steal olives and agricultural tools in Qalqiliya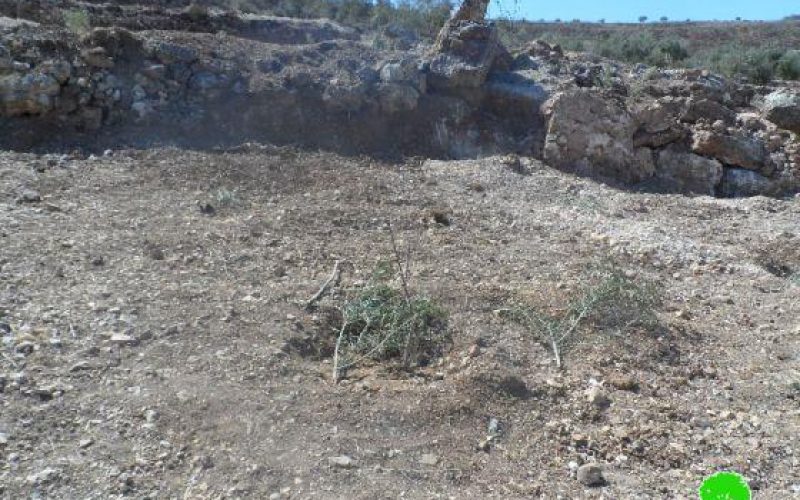 Violation: Total damage of 95 olive saplings and theft of 300 kg of picked olives as well as agricultural tools
Date: 06/10/2013
Perpetrators: Colonists of Gilad Zohar
Victims: 2 farmers
Location: Jit- Qalqiliya governorate
Details:
The olive harvest season is ranked among the most important agricultural events in Palestine where one can see men, women and children collaborate to make the best of it. Colonists try to make the best of it but in a different way; they intensify their attacks on the holy tree by cutting down, burning and stealing olive trees as well as harassing farmers.
On 06/10/2013, a group of radical colonists from Gilad Zohar cut down and destroyed 95 olive seedlings aged 2 years which led to their total damage. Colonists used sharp tools in the attack. The attack took place on Jit at afternoon after farmers returned home after a long day of harvest.
Colonists also stole 15 olive sacks (that is 300 kg of olives) that were put near the trees. They also stole agricultural tools like ladders and saws from adjacent lands to the location of attack.
| | | | |
| --- | --- | --- | --- |
| | | | |
| | | | Cutting down 95 olive saplings- total damage |
| | | | Theft of 300 kg of olives and two chainsaws- ladder- and sheets |
| | 19 | 9 | 95 olive saplings- 300 kg of olives- sheets- ladder- two saws |
*Source: Field Research- Monitoring Israeli Violations Team- Land Research Centre (LRC).
Mr. Zakariyya Al-Sadda, a member of Jit village council, told an LRC observer that:
"There is a nonstop targeting policy to most Jit agricultural lands where most attacks come from Gilad Zohar colony. During the past few years, many trees were cut down and farmers harassed. We filed many complaints but to no avail."