Stop-work and demolition orders for two houses in Hebron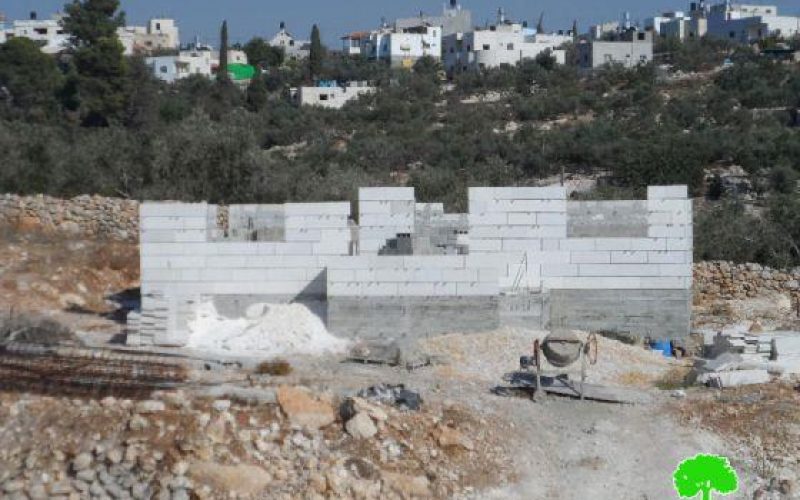 Violation: Orders to stop working in one structure and to demolish another
Date: 01/09/2013
Location: Jawr Salem- west of Idhna- Hebron governorate
Perpetrators: The Civil Administration of the Israeli occupation army
Victims: Two families
Details:
On 01/09/2013, the Israeli occupation authorities directed a stop-work order for a house and a demolition order for another. The two structures are owned by citizens living in Idhna, west of Hebron.
The Civil Administration sent Hani Awawda an order asking him to stop building in his house which is under construction and has an area of 170 m2 and is one storey. The house is expected to shelter the five-member family of Awawda, including 3 children in addition to Hani's mother. He began building it in the current year. The order number (151426) sets (06/09/2013) as a date for the meeting of the "Inspection Subcommittee" in "Beit El" colony to consider "demolishing the structure or returning it to its previous status."
Awawda headed into a human rights institution to defend his house.
The Israeli authorities also delivered an order to Zyad Al- Batran to demolish his house. They ordered him to stop building and demolish what was built under the pretext of unlicensed construction.
The order pointed out that the Israeli authorities directed a previous stop-construction order for the structure on (24/07/2013) but Al-Batran could not protest in courts due to harsh economic circumstances. Nonetheless, he went to a human rights institution to object the resolution of demolition.
Al-Batran's house is under construction and is 110 m2 in area. His 3-member family, 1 child included, are expected to live in the house.
Summary of Idhna:
18 km away from Hebron, Idhna has a total area of 26,152 dunums, 2653 of which are built-up area. Idhna has a population of 19, 012 people (according to a 2007 consensus).
The Israeli occupation confiscated 107 dunums and isolated 3511 dunums for the benefit of the Apartheid Wall. Bypass 35′ devoured 467 dunums of Idhna lands.
Since the beginning of 2013, the Israeli occupation army sent a number of orders and carried out attacks in Idhna. For more details, kindly check the reports prepared by LRC