Sending eviction orders for agricultural structures in Tubas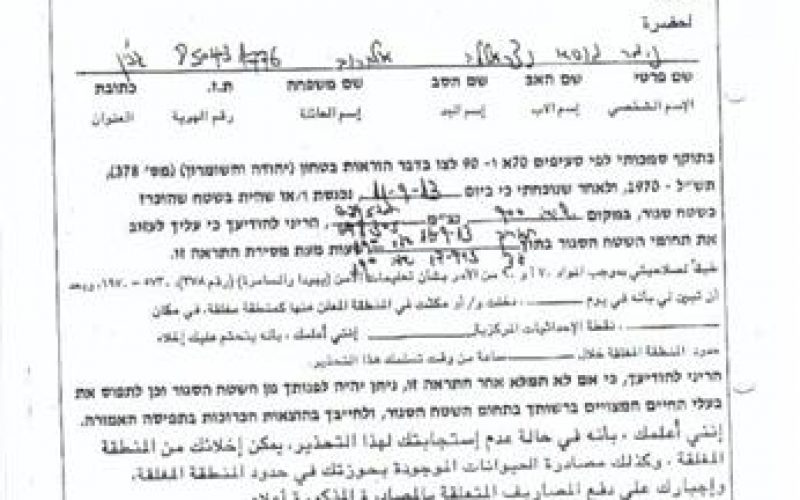 Violation: Handing in warnings to evict a closed zone to 3 Bedouin families
Location: Ibziq- Tubas
Date: 15/09/2013
Perpetrators: Israeli occupation army- Civil Administration of Judea and Samaria- the Central Inspection Unit
Victims: 3 people
Details:
Ibziq, northwest of Tubas, witnessed a new wave of attacks that came in synchronization with large demolition operations carried out by the Israeli occupation in the north ghors, especially Makhoul.
On 15/09/2013, a large force of the Israeli occupation army along with officers of the Inspection Subcommittee raided Ibziq, where they handed a citizen and his sons a military order that asks them to evict their residence under the pretext that they live in a closed zone.
The military order directed to Nimer Hroub and his 2 sons, Ahmad and Mohammad, in Ibziq
The table gives information about the threatened structures:
*Source: Field research- Monitoring Israeli violations team- Land Research Centre (LRC)
The Head of Project Committee in Ibziq, Ali Sawafta, affirmed that: "Hroub family has been living in Ibziq since 1961, i.e. before the Israeli occupation in 1967. People here have the deeds and documentations that prove their ownership of the lands but the Israeli occupation is determined to kick them out of the area under the pretext of living in state lands.
Ibziq is 8 km east of Tubas and is a primitive Bedouin gathering where its inhabitants depend on sheep grazing and agriculture as sources of living and on wood and sackcloth for building their dwellings. They lack basic daily services like water and electricity. They can get water by carrying jars of water from Tubas to Ibziq; a journey of 8 km.
38 Bedouin families live in Ibziq; that is 256 people. 18 families out of the 38 live permanently in the area while others are nomads- according to Sawafta.
The area of Ibziq is 8,000 dunums- 5,000 of which are considered Jordanian crown land Bedouins are not allowed to take advantage of because of Israeli continuous attacks, the latest of which were the eviction orders. The lands are considered closed military zone and lands for military practice.