Raiding Makhoul for the second time and confiscating tents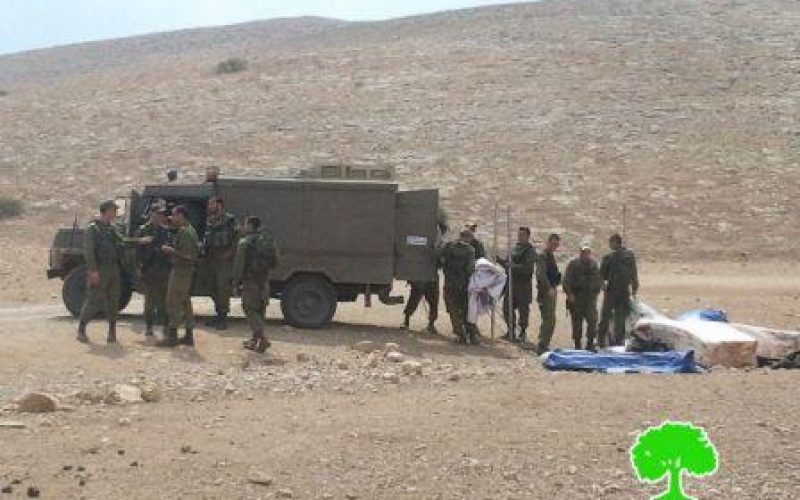 Raiding Makhoul for the second time and confiscating tents
Violation: Confiscating relief tents
Date: 18/09/2013
Location: Makhoul- Tubas
Perpetrators: The Israeli occupation army
Victims: People of Makhoul/ 10 Bedouins consisting of 51 people
Details:
Khirbet Makhoul witnessed a new wave of racist attack by the Israeli occupation army. After less than 48 hours of carrying out a large-scale demolition operation that almost destroyed Makhoul and made its inhabitants homeless, the Israeli occupation also targeted the relief tents donated by the International Committee of the Red Cross and Palestine Red Crescent Society.
On Wednesday, 18/09/2013, the Israeli occupation army raided deserted Makhoul and dismantled a number of tents meant to provide shelter for families whose residential and agricultural structures were demolished.
Mahmoud Basharat, 62 years old, a victim of the latest demolition operation told an LRC observe that:
"We have been living in Makhoul for more than 50 years and we never were a source of harm or nuisance to anyone. After the 1967 war, the Israeli occupation army began to harass us. They built a military base named Pelas. They were not content with daily harassment, they also demolished the whole place and displaced its inhabitants."
What happened is worse than the 1967 war, according to Basharat who said that what happened should remind us of the 1948 war when Palestinian gatherings were targeted by Haganah forces. That time they wiped out villages totally and displaced all their residents.
Mohammad Al-Malah, a legal consultant in Tubas, said, "What happened in Makhoul and all the demolitions to Bedouin dwellings going on in the Jordan Valley prove that there is an Israeli policy aiming at forcing people out of the region to serve the Israeli interests that mean at having full control over the Jordan Valley as being the eastern borderline of Israel according to the Israeli government.
Makhoul in lines:
This Bedouin gathering is 20 km east of Tubas. It is surrounded by Israeli military bases, among the most known and largest is Pelas. There is also Hemdat colony adjacent to Makhoul.
People of Makhoul have been living there for over 50 years. In 2009, an Israeli forces accompanying officers of the Israeli Civil Administration came by and informed people of Makhoul that they could stay in the area but are not allowed to build anything new.
In April 2013, Tubas filed requests to the so-called Civil Administration asking for license for a number of structures belonging to 21 residents in the Jordan Valley, 9 of which are placed in Makhoul. The Civil Administration rejected the requests under the pretext of lack of legal documents required for license and referred the case to the Supreme Court of Israel.
In September 2013, the Israeli occupation army carried out demolitions that targeted every structure in Makhoul. This was the first time Makhoul was targeted.