Demolishing 3 Agricultural and Residential Structures in Al Jiftlik village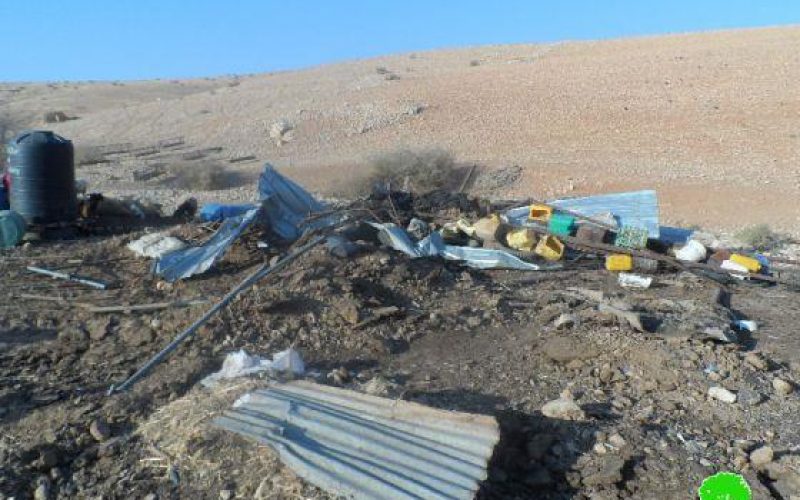 Violation: Demolishing 2 residential structures and a shed

Date: 21/08/2013

Perpetrators: The Israeli occupation army

Victims: Ka'abna family (12 members, 5 of whom are children)

Location: Jaftlak village/ Jericho governorate
On 21/08/2013, the Israeli occupation forces demolished 3 residential and agricultural sheds in Jaftlak village, north of Jericho.
The demolished sheds were a target for the Israeli occupation demolition operations for the past five years.
The table gives general information about the targeted structures in Jaftlak village:
*Source: Field research- Dept. of Israeli Violation Inspection-LRC
Picture 1: the demolished structures of Mohammad Ka'bna/ Jaftlak village
Picture 2: The demolished structure of Khaled Ka'bna/ Jaftlak
The agricultural industry is considered an income source to the people of Jaftlak village . Thus, the Israeli occupation has been destroying it by closing some areas, confiscating others, banning farmers from harvesting or irrigating their crops, turning agricultural lands into military practice areas, confiscating 32 cisterns besides turning houses into military closed areas and confiscating pastures.
There is a comprehensive planned blockade imposed on the people of the village to make them leave their lands whose total area is about 32, 000 dunums. Most of the lands have been transformed into military closed areas on the pretext of their being borderline areas.
During the past three years, Jaftlak village received demolition orders of more than 28 agricultural and residential structures under the pretext of not having a license which the Israeli occupation does not give. The Israeli occupation thinks that by refusing to give permits, people would leave their lands and go away. The contrary happens: people refuse all the Israeli plans as Waleed Ka'bna, an activist in the village, put it: "All the Israeli occupation plans are deemed to fail because we are the original inhabitants and are linked to the land of our fathers and ancestors in so strong a tie the Israelis cannot break it."