Stop-Work Orders for Structures and a Water Cistern in Al-Mafqara little town-east of Yatta- Hebron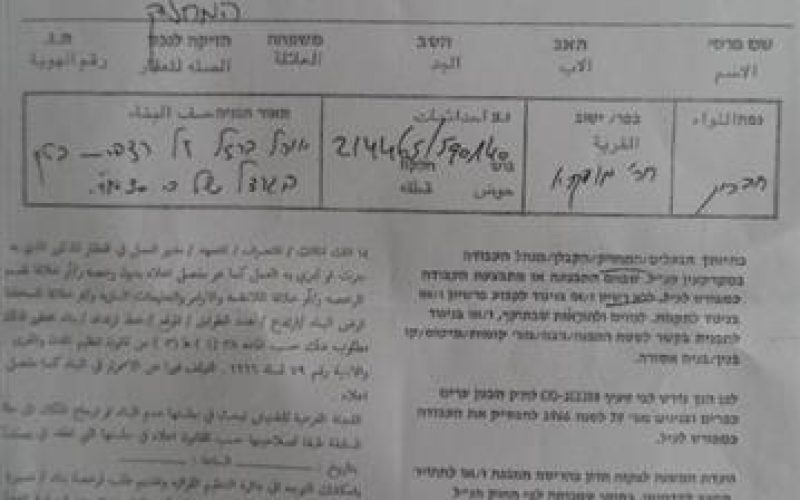 Violation: Orders to stop working in structures and a water cistern
Date: 22/07/2013
Location: Al-Mafqara little town-east of Yatta- Hebron governorate
Perpetrators: The Civil Administration of the Israeli occupation
Victims: Citizens of Hamamda family
Details:
On 22/07/2013, the Israeli occupation authorities directed orders to stop construction work in structures, namely shelter tents, agricultural sheds, and a water cistern owned by members of Hamamda family.
Some citizens witnessed a jeep of the Israeli Civil Administration accompanying a jeep of the Israeli occupation army sneaked in to the village where they left the orders and took pictures.
The orders stated that, "The structures were erected without license." and set 15/08/2013 as the date for "Inspection Subcommittee" to hold a meeting in Beit El colony in order to decide the fate of the threatened structures; whether to "demolish them or return them to their previous status."
Pictures A, B, C: Samples of the orders
The table shows the names of citizens whose structures are threatened:
Inhabited- made of tinplate

Used for household purposes and livestock
*Source: Field research- Monitoring Israeli Violation team-LRC
Al-Mafqara:
It is a primitive residential gathering that is 17km away from Yatta. Its population is about 150 people, distributed in 22 families and governed by a joint village council shared by Al-Mafqara and Al-Tiwani nearby.
The borders of Al-Mafqara are:
From the north there is "Khafat Maaoun" colony

From the west there is "Afi Ghal" colony and a by-pass no. 60′

From the south there is "Yaqoub Dalia" colony

From the east there is "Maaoun" colony
The townspeople depend on agriculture and livestock breeding as their sources of income. No modern services are available in the village.
It is worthy to indicate that the Israeli occupation evicted the townspeople and other residents of villages near bypass no. 60' and transferred them to the northern side of the bypass. It was not after a verdict in their favor from the Israeli occupation court that they were allowed to return to their villages and dwellings.