A Stop-Work Order and a Demolition Order for Two Water Cisterns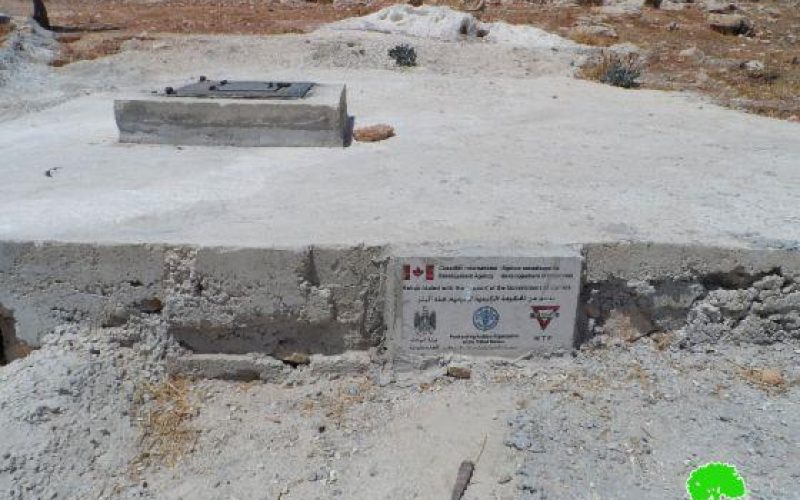 Violation: A stop-work order and a demolition order for two water cisterns
Location: Al-Qanob- east of Sa'er- Hebron governorate
Perpetrators: The Civil Administration of the Israeli Occupation
Victims: Two citizens from Al-Shalalda family
The Israeli occupation authorities issued two orders regarding two water cisterns in Al-Qanob, east of Saer- Hebron.
First,
On 29/07/2013, the Israeli Occupation Civil Administration delivered a stop-work order demanding to stop building a cistern owned by a citizen named Zaydan Shalada. The cistern is an old one renovated by monetary help of the Canadian government and executed by Christian Youth Society. The cistern is meant to be used for agricultural purposes and sheep breeding in a region that is always lacking water.
The order was found on the roof of the cistern and was issued for the cistern on the pretext of being unlicensed. 21/08/2013 was set as the date of The Inspection Subcommittee in Beit El colony to look at what is described as "demolishing or returning the structure to its previous status."
Second,
On 17/07/2013, the Israeli occupation authorities issued a final order to demolish a cistern owned by a citizen named Emad Al-Shalalda in Al-Qanob. The order that holds the number of (392531) states that the Israeli occupation authorities delivered a similar order earlier this year; on 11/03/2013 ordering the owner to "stop work and construction".
The cistern was built in 2012 and financed by the Canadian government and implemented by Christian Youth Society and the Palestinian Agriculture Ministry. The cistern is 70m2 and was constructed for agricultural purposes and livestock breeding for Al-Shalada owns a herd of sheep and lives in Al-Qanob
Pictures C+D: Pictures of the threatened well cistern