Colonists Try to Seize 70 Donums in Hebron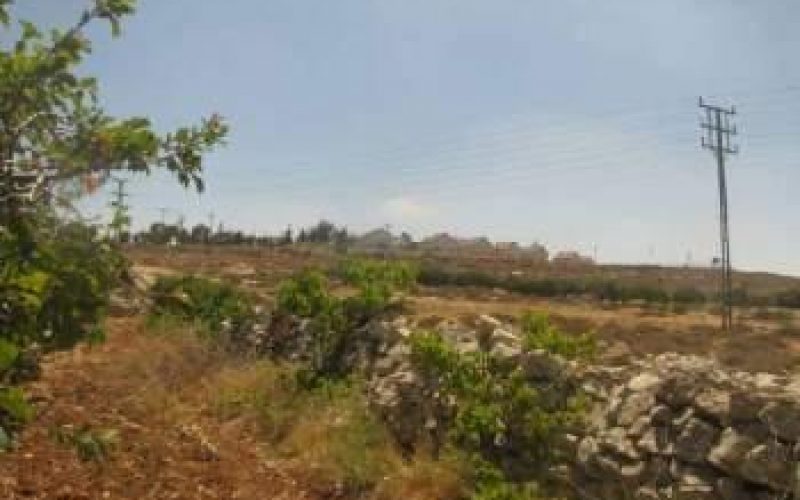 Violation: attempt to confiscate 70 donums of Palestinian lands
Date: June/2013
Location: Al-Za'fran- Shiokh town/ Hebron Governorate
Perpetrators: colonists of "Asfer"
Victims: Nadi Al-Halaika
Details:
colonists of Asfar have greedy intentions regarding a piece of land owned by a citizen named Nadi Al-Halaika and is located in Al-Za'fran near the colony. Al-Halaika was shocked when he went to his land on a June day of 2013 only to find it ravaged and 10 donums of it were fenced, gated and annexed to the colony. Al-Halaika explains that settlers tried to take over his land before this time when they brought a truck and a bulldozer and ravaged the land on 26/06/2013.
Al-Halaika also added that he found an electric cable extending from the settlement into his in an indication of the settlers' use of electricity in welding the barbed wires around his land. When Al-Halaika tried to terminate the cable, colonists came by and ordered him to leave it in the land. They also ordered him to get out since "the land is for Israeli and he has no right to stay. He can go to the court if he protests against the changes they made in his land."
In a close inspection, Al-Halaika's land is agricultural, planted with winter crops. Al-Halaika says that about 70 donums of his land were planted with almond trees but in 2000, settlers cut the 10-year-old trees down and stole them. They also stole soil after ravaging it in the same year. After that incident, Al-Halaika started growing grains.
Al-Halaika is afraid that soon colonists will be taking over his entire land and annexing it to the settlement according to their expansion plan, especially that they have the approval of the Israeli soldiers.
Legally speaking, Al-Halaika went to a police station in the settlement of "Kfar Ezyon" and filed a complaint. The police asked him to fill the form before getting back to them.
The mayor of Al-Shiokh municipality, Dr. Sharif Halaika, explains that what the settlers did comes in agreement with their intentions of seizing more land and with the plan of expansion that happens on the expense of structural expansion of the town.
Prepared by
The Land Research Center
LRC