Colonists Burn 590 Olive Trees in Betilo village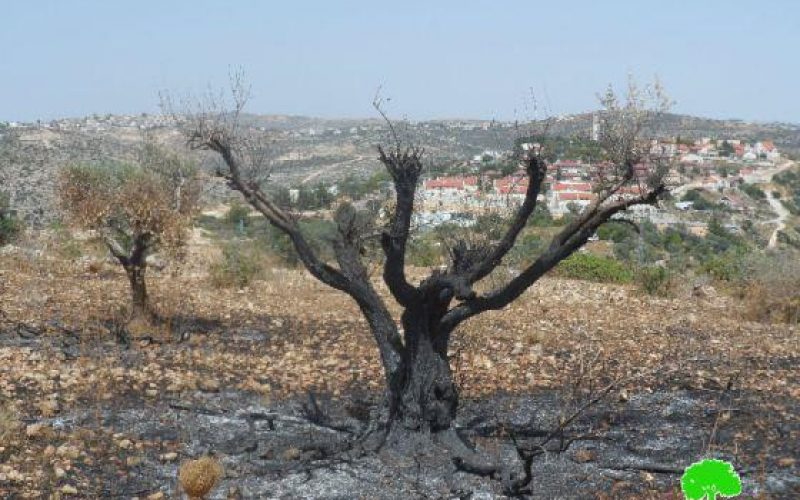 Violation: Burning 590 olive trees

Date: 22/05 & 02/06/2013

Location: Betlo village/ Ramallah governorate

Victims: A number of farmers

Perpetrators: Colonists of "Nahlel"
On 22/05/2013, Waleed Darwish became grief-stricken after he found out that his 70-year-old olive trees were on fire. Fanatic colonists burnt them in an attempt to take over the whole area. Darwish (71 years old) told an LRC observer that: "The lands near "Nahlel" colony are targeted. That is clearly shown by the colonists' constant appearance and provoking actions. The Israeli expansion in the area is obvious and is backed up by the Israeli occupation government that encourages the colonists to carry out more attacks while calling for peace in the international forums."
On 02/06/2013, colonist burnt 170 olive trees. The trees were partly damaged while other trees were totally damaged. The trees are estimated to be 75 years old and belong to a number of farmers from Al-Bazar family. The olive orchard is adjacent to "Nahlel "colony and is east of Betlo village.
The table displays information about the affected farmers and trees (on 22/05 and 02/06):
*Source: Field research- Dept. of Israeli Violation Inspection- LRC
It is noteworthy to know that the colony of "Nahalel" is a real source of danger on the lives of Palestinians in Betlo and other adjacent villages to the colony. During the past five years, tenths of attacks by colonists were recorded. Some of which were: Burning hundreds of olive trees; attacking farmers and hitting them. All that without any legal hinder or obstruction.