The Israeli Occupation Authorities demolishes a residential building: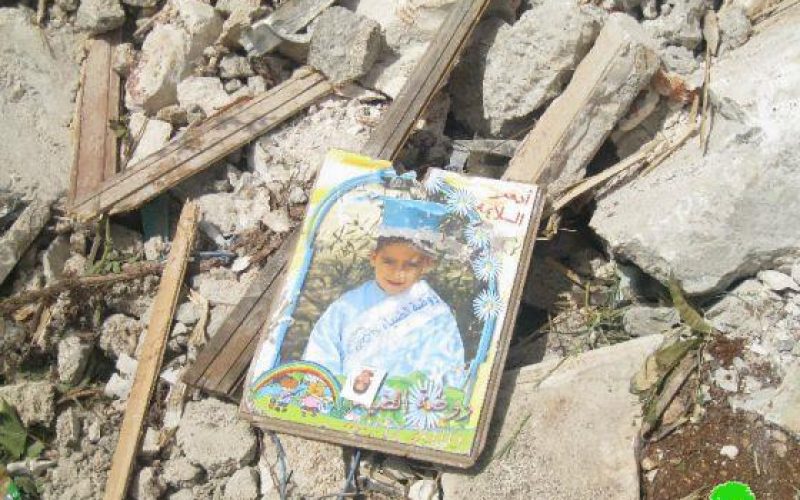 On May 29, 2013, the Israeli Occupation Authorities demolished a residential building in Beit Hanina to the north of Jerusalem; the building consisted of three apartments and has been property of Badwan Salayma and his sons.
Table 2: owners:
Badwan said to an LRC observer: "the building was constructed in 2000, we bought a 2-dunum-plot and raised the building on it. In 2007, we added a new apartment to the second floor. In 2011, officers of the Israeli Municipality in the Occupied City came and brought with them a demolition order saying that the structure was built prior to acquiring needed permits in addition to a 40,000 NIS penalty. We hired a lawyer and an engineer to prepare a case file and the needed maps. As soon as we paid the penalty, we were penalized an amount of 65,000 NIS and then another penalty of 96,000 NIS. In a Court session in February 2012, the court ruled that the lands were already reserved for public usage and that construction is not allowed, implicitly approving the demolition order.
Today, at 09:30 a large Israeli force closed the area and disallowed anyone from getting in or out before breaking into the house. The cleared the houses before the dozers embarked on demolition. When I got there, the soldiers prevented me from getting near and did not allow me to take out any of the contents of the houses".
The Israeli forces attacked anyone who came near with clubs and rifle buttocks; they also used sound and gas grenades to prevent people from gathering.
Two Palestinian young men were taken into custody.
Scenes of the demolition:
| | |
| --- | --- |
| Crying over her lost residence | Adham Salayma kindergarten graduation party – memories lost in the rubble |