Notifying Bedouin Families of Having to Stop Building in Al-Farisiyya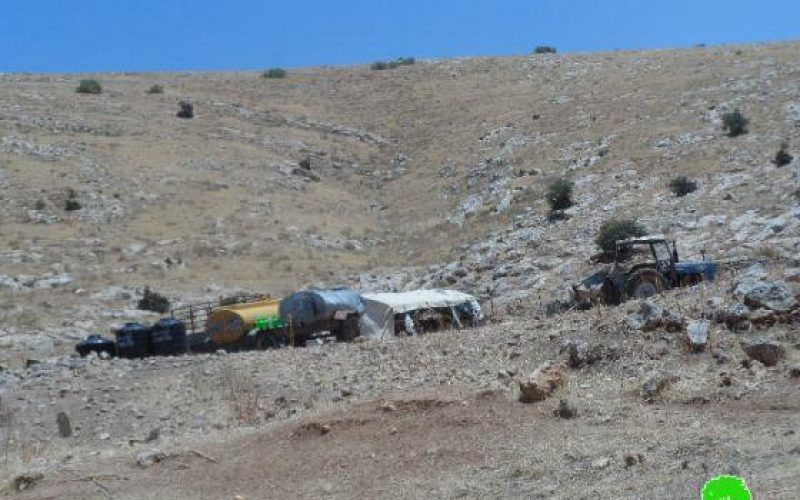 Violation: Notifying 13 Bedouin families of having to stop building residential and agricultural compounds
Location: Al-Hummair, a place in Al-Farisiyya/ Tobas Governorate
Date: 27/05/2013
The Perpetrators: A so-called Construction and Organization Committee, subordinate to the Israeli occupation
The Victims: 13 families consisting of 73 members, of whom 32 are children
Details:
Al-Farisiyya, east of Tobas, continues to be a target for Israelis aiming at damaging Al-ghors and seizing the assets of the region.
On 27/04/2013, early on a Monday morning, a force of the Israeli occupation army accompanied with a so-called construction and inspection committee that belongs to the Israeli occupation raided Al-Hummair in Al-Farisiyya. The Israeli forces handed over military warrants banning 13 Bedouin families from building residential and agricultural compounds under the pretext of not having permits in the C area according to Oslo Accord.
The waned people are given time till 17/06 to proceed with the having permits procedure. This is the same date for conducting a Beit Ail court session where the inspection and construction committee can assess the status of the warned buildings.
It is noteworthy that the warrants are targeting 13 Bedouin families consisting of 73 members, of whom 32 are children, living in compounds made of sackcloth and tin beside 16 tin stable for breeding livestock.
The following table gives general information on the affected farmers:
No. of Children less than 18

Ahmad Hamad E'liyyan Awad
Source: Field Research- Israeli Violation Inspection Department- Land Research Centre, April 2013.
Al-Farisiyya: A Story about Suffering
Located to the east of Tobas, Al-Farisiyya spreads over Al-Tiaser from the west and the Jordan River from the east. Its population is estimated to be about 400 while it reached more than 1,000 before the Israeli occupation in 1967. They mainly depend on farming and livestock breeding to support them economically.
The origins of the families of Al-Farissiya are Tobas and Tamon town. The families live in places built of zinc and animal hair. All the places are warned under the pretext of being in a military-closed zone.
The Israeli authorities, since they occupied the West Bank, have been relentlessly trying to annex and hebronize the Palestinian ghors because they are the eastern defense line, according to Israel's claim, and because of their water reservoir that meets the Israeli occupation's basic needs.
For the very same reason, the Israeli occupation authorities confiscated most agricultural land of Wadi Al-Maleh, east of Tobas, and transformed it into military closed zones and outposts where Palestinians are not allowed access. Many settlements were built in the region as well. Al-Farisiyya, for example, is surround by two big settlements which are "Rottim" and "Makhola". They both take over than 700 donums of Al-Farisiyya land.
Moreover, the Israeli occupation has made the eastern land of Al-Farisyya a mine land. Mountain peaks have been made into military basis and practice zone. All of this has had a very negative effect on the farmers' lives since the Israeli occupation rendered them 1% only of Wadi Al-Maleh beside wilting the farming and breeding animal industries since Palestinians are not allowed access. This has resulted in a bad economic situation and desertion of the place. Only 5 families, instead of 75, live there.
Land of Research believes that destruction operations are a violation to all the international conventions, human rights, and international legitimacy. They are a violation of the Geneva convention, article no. 53, stating that: "Any destruction by the Occupying Power of real or personal property belonging individually or collectively to private persons, or to the State, or to other public authorities, or to social or cooperative organizations, is prohibited, except where such destruction is rendered absolutely necessary by military operations."
It is also a violation of article 17 of the universal declaration of human rights, 1948, stating: "(1) Everyone has the right to own property alone as well as in association with others. (2) No one shall be arbitrarily deprived of his property."
Furthermore, it is a violation of part (g) of article 23 of the "La Hague" Conventions of 1907 stating that "destroying or seizing the enemy's property, unless such destruction or seizure be imperatively demanded by the necessities of war" is prohibited.