Confiscation of Water Tankers in Jiftlik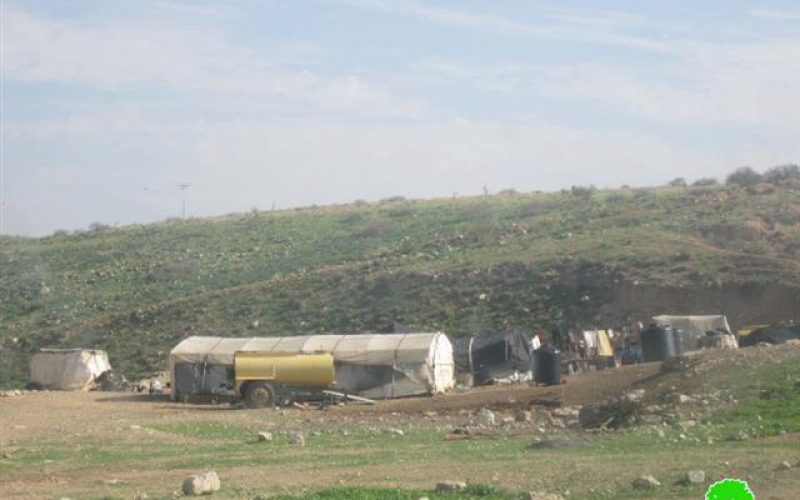 Violation: confiscation of 4 water tankers.
Location: Jiftlik – Jericho.
Date: May 5, 2013.
Perpetrators: the Israeli Occupation Army.
Victims: 6 Bedouin families.
Details:
Since the Israeli Occupation of the West bank in 1967; the Israelis decided that the Jordan Valley area is the eastern border of the "Israeli State". To serve that purpose, the Israelis decided on several laws to ensure their control over the Jordan Valley.
In addition, the Israeli governments established a large number of colonies in the area and allocated huge budgets for their growth and prosperity.
At the same time, the Palestinian presence in the area has been in decline due to the Israeli measures which included cutting of services, banning extraction of groundwater, demolitions, etc.
On May 5, 2013, the Israeli Occupation Army confiscated 4 water tankers on claims that they were parked in a military zone.
The confiscated tankers were given as a donation from the Palestinian Authority.
Table 1: owners of tankers:
*source: Field Observations – Monitoring Israeli Human Rights Violations Team – LRC
It is worthy to mention that Palestinian residing in the Jordan Valley have been deprived of their access to water sources and proper use of their lands; the Israeli Occupation Army often launches campaigns against farmers, confiscating water tankers and equipment in addition to imposing fines that reach up to 5000 NIS on them; adding to their burdens.