Eviction orders for 16 Bedouin families in Tubas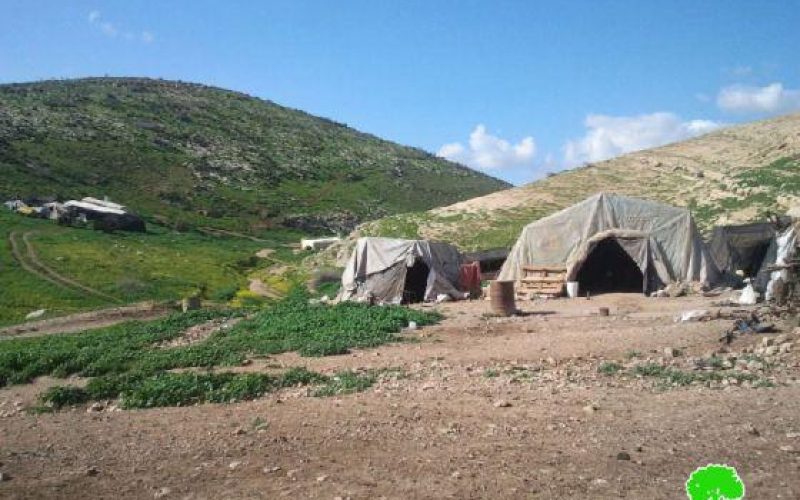 Violation : informing 16 families to evict during 24 hours
Location: Ibziq- Tubas
Date: 09/03/2013
Details:
On 05/03/2013, the Israeli occupation forces delivered eviction orders for 16 Bedouin families living in Ibziq. The orders asked them to leave their dwellings and sheds for 24 hours under the pretext of performing a military exercise on 09/03 in Ibziq, northeastern Tubas.
The exercises carried out by the Israeli occupation forces since October of the last year came in synchronization with the reproduction season of sheep. The latter are considered a primary source of income to the Bedouin gatherings living in the Jordanian Valley. So the military exercises badly harmed the animal wealth industry there.
Picture 5: Children playing in Ibziq
Picture 6: Part of Ibziq Bedouin gathering
The table gives information about the targeted families:
*Resource: Field Research- Monitoring Israeli Violations Team- Land Research Centre
Targeting crops is a primary objective during military exercises:
On 09/03/2013 during military exercises, the Israeli occupation army destroyed agricultural lands planted with winter crops with chains of heavy machines and military tanks.
At Initial estimations, around 25 dunums, planted with vegetables and grains and belong to farmers from Toubas, were destroyed during military drills in Ibziq.
Ibziq is one of the Bedouin gatherings in an area classified as close military zone and the Israeli occupation does not acknowledge it. Its residents are always chased after and their dwellings are often demolished.
Previous attacks by the Israeli occupation:
On 03/01/2013, the Israeli occupation carried out military maneuvers as exercises in Ibziq. That resulted in evicting 29 families, 120 of whom are children who had to stay outside in freezing cold. Many sheep died that day out of cold.