Colonists uproot saplings and damage a water well in Sa'ir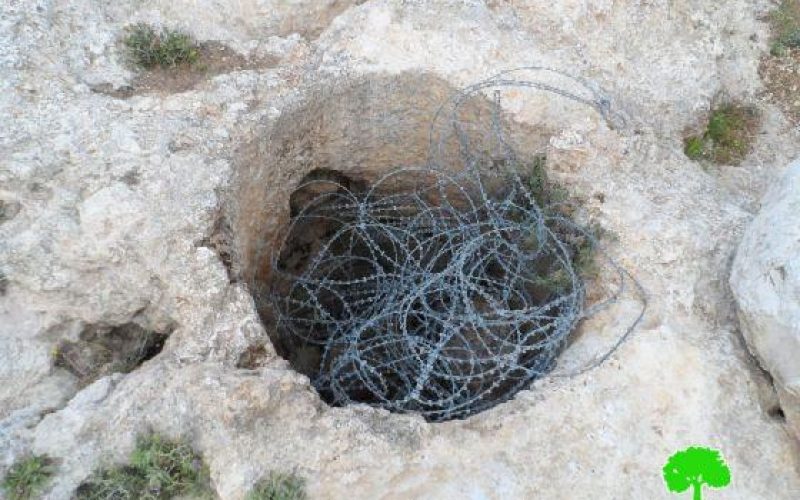 Violation: Uprooting apricot saplings and destroying a water well
Date: March/2013
Location: Al-Qanob- East of Sa'ir- Hebron
Perpetrators: Colonists of "Asfar"
Victims: Khalil Shalalda
Details:
Colonists of Asfar ,which is built on lands of Sa'ir, attacked Khalil Shalalda's land that is planted with olive & almond trees, in Al-Qanob.
Shalalda told an LRC observe that 2 colonists holding metallic tools along with 2 dogs broke in to his land at the end of March, 2013, where they uprooted apricot saplings and 10 olive saplings recently planted; stole the olive saplings and moved them to "Asfar" colony.
He added that, "I yelled at the colonists in an attempt to take them out from my land. As a reaction, they hit a cactus tree in my land, harmig it."
Pictures 1+2: The land attacked by colonists
Shalalda also said that colonists could access his other patch of land near "Asfar". He noticed that about 20 olive trees aging 15 years were damaged and their branches broken. He suspected the colonists are behind the attack.
Moreover, colonists pulled out barbed wires fencing the patch of land Shalalda owns. The colonists threw the wires in a water wall where they also threw stones in. The well is used by Shalalda for watering his livestock.
Pictures 3+4: Effects of the attack on the water well
Colonists by such attacks aim at frightening farmers and forcing them to leave their lands so that colonists can expand "Asfar" and "Mitzad Shimon" built on confiscated lands.