Attacks on Palestinian Farmers in Burin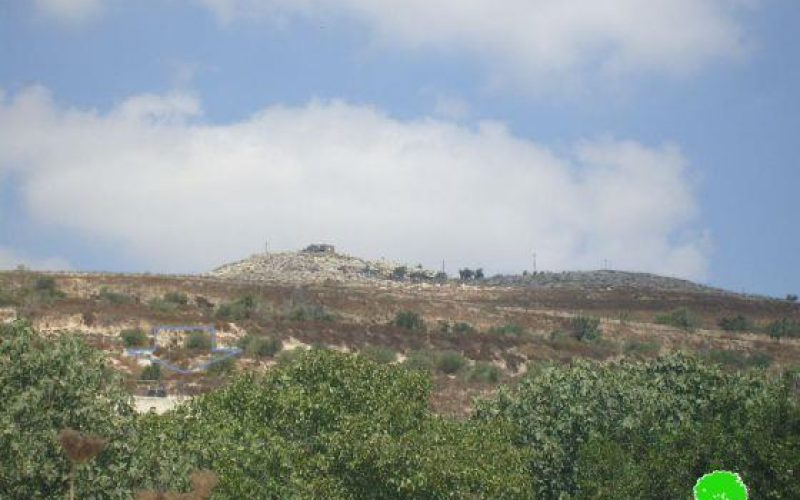 Violation: attack on Palestinian farmers and confiscation of tools.
Date: March 1, 2013.
Perpetrators: colonists of Yizhar.
Location: north eastern side of Burin – Nablus.
Details:
At the beginning of the spring season of every year, Palestinian farmers become more active in terms of planting, plowing, and developing their lands; at the same time, Israeli colonists become active but in a brutal and inhuman ways.
On March 1, 2013, a group of colonists of Yizhar launched an attack on Palestinian farmers in the northern side of Burin. The colonists stole some equipment and some money before turning the fields upside down. The attack took place under the nose of the Israeli troops who were watching with joy.
Picture 1: targeted location
Riza-Allah Qadus, one of the victims stated: 'I own a plot located in Ein al Shara area, to the north of Burin, it is located 2 km away from Burin. The plot total area is 10 dunums, mostly planted with olives. It has been a complimentary source of living for my ten-member family. On March 1, I headed along Ismael Qadus and Jamal Qdus towards our plots in the area to trim the trees andplow the lands. Almost an hour later, more than 15 masked colonists attacked us but we fled leaving all the tools behind. They stole our tools, 2 axes, 3 saws and also stole my ID and 300 ILS. When they stole the tools we chased them but were stopped by the soldiers. We pleaded to the soldiers to stop them but they could not be any more careless, then they threatened to kill us if we did not leave immediately.'
Burin Targeted by colonists:
Ein al Shara and the northern side of Burin has been targeted by the Israeli colonists and soldiers on daily basis. Last year, 24 olive trees were cut down while in 2012, 98 were torched. The area has been declared as a 'closed military zone' inaccessible by the Palestinians but, at the same time, access-free for the colonists who has been spreading destruction in the area.