A Military Order Demanding the Removal of 110 Palm Trees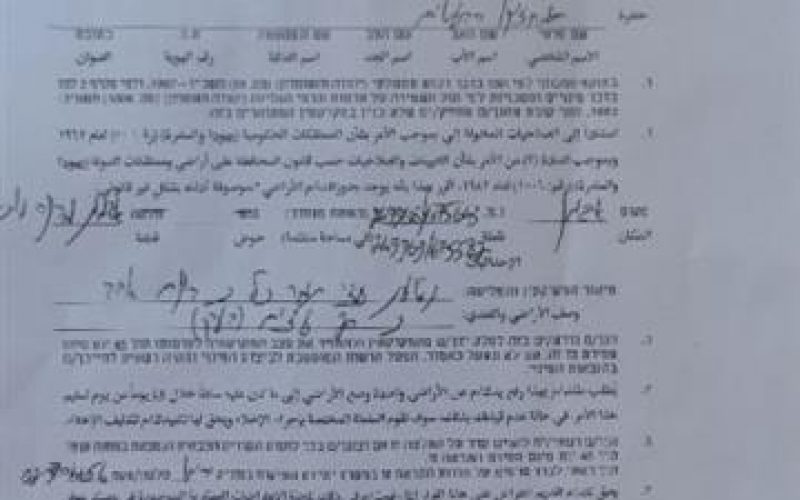 Violation: the Israeli Occupation Army orders the removal of 110 palm trees in Zbeidat Village – Jericho.
Date: March 14, 2013.
Perpetrators: the so-called Central Inspection Committee – the Israeli Occupation Civil Administration – the Israeli Occupation Army.
Preface:
The Jordan Valley area is considered the most productive in the West bank in terms of agriculture; it has been the kernel of the agricultural sector in Palestine.
However, the Israeli policies and measures in the area have shrank the cultivated lands drastically; almost 80 % of the total area of the Jordan Valley were allocated for colonial expansions, military camps and training grounds and minefields which threatens the Palestinian very existence in the area.
As for Zbeidat village; all of its lands have been included in the Israeli plans while over 90 % of the structures in the village have received demolition orders.
Details:
On March 14, 2013, Israeli troops broke into the village accompanied by officers of the so-called Central Inspection Committee who ordered handed the people orders 1036 and 1037 which call for the evacuation of 14 dunums of palm groves and returning to the status quo, implicitly demanding the removal of the trees.
The targeted grove in property of Hasan Jazmi, 51, of zbeidat village.
7-9: military orders and enclosed maps
The Israelis claimed that the targeted lands are "state properties" and the farmer has been illegally using it.
Zbeidat:
Zbeidat is located 39 km to the north of Jericho edging the Jordan River. It was called Zbeidat because Zbeidat family settled there after being removed from Beer Shiva after the Israeli Occupation in 1948.
The village total area is 4123 dunums including 131 dunums of built up area, inhabited by around 1500 people (2009 census).
99 % of the village area are classified as area 'C' according to Oslo, the rest are classified 'B'.
Colonists captured 48 dunums of the village lands to erupt Arjman colony in 1970; the colony is now inhabited by 180 colonists.
It is worthy to me mention that any application for a construction permit is deemed unsuccessful for "security reasons".
In 2009, the Israeli Occupation Authorities served the villagers 17 stop-work orders. In 2010, more than 50 trees were uprooted for the enlargement of bypass '90'.