Ravaging 40 Olive Seedlings in Deir Ballout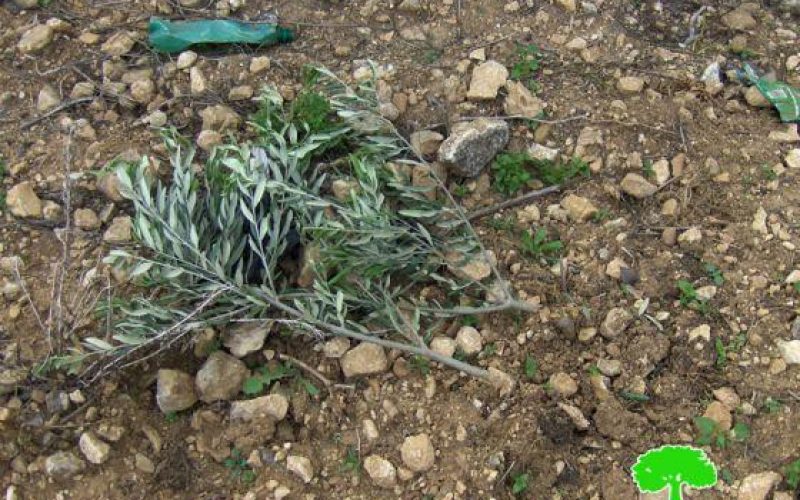 Violation: ravaging 40 olive seedlings.
Location: eastern side of Deir Ballout – Salfit.
Date: February 6, 2013.
Perpetrators: the Israeli Occupation Army.
Details:
On February 6, 2013, Israeli troops embarked on a searching campaign to the east of Deir Ballout; during their search, soldiers uprooted 40 olive seedlings that were recently planted. On November 28, 2012, Israeli soldiers uprooted 55 trees in the same area and that belonged to the same owner, Mr. Na'im Ibrahim, 56. Na'im said: 'the Israelis are targeting Palestinian agriculture and even existence; for over ten years, the Israeli soldiers and colonists have been trying to add to the woes of the people by threatening a number of houses and oppressing people. The Israelis are targeting our existence with an eye on controlling the area and further expand the nearby Eli Zahav colony.'
The eastern side of the village is considered as an Israeli military shooting ground which is the reson for intense activities. In addition, it is close to Eli Zahav colony which is being expanded rapidly.
Deir Ballout:
It is located 20 km to the west of Salfit, adjacent to the armistice line. The village is inhabited by around 5000 people, who depend largely on agriculture. The unemployment rate in the village reached 64% in recent years. The village master plan includes around 800 dunums out of 18000 dunums which is the total area of the village.
However, 8000 dunums of the village's lands were isolated behind the wall while a further 500 dunums were used for the construction of Bedouil colony. Bedouil total area is 592 dunums including 171 dunums of built up area, inhabited by 1219 colonists.