Leveling Agricultural Lands in "Jib al Theeb"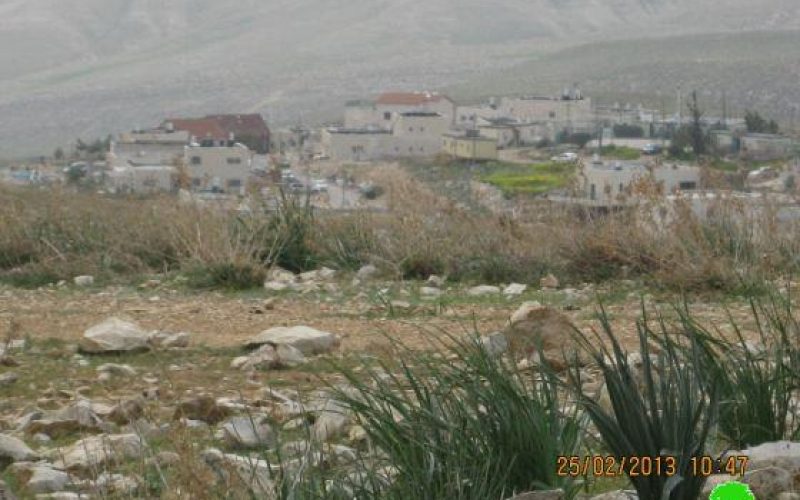 Violation: leveling agricultural lands.
Location: Jib al Theeb nearby Mount Herode, Bethlehem.
Date: February 13, 2013.
Perpetrators: the Israeli Occupation Army and colonists of Nekudim.
Details:
On February 13, 2013, Israeli dozers leveled huge areas of Palestinian agricultural lands in Jib al Theeb area; the leveling took place under the protection of Israeli troops. It is obvious that the Israelis intend to expand Nekudim colonial outpost where 3 new mobile homes has been added recently.
The residents of the area are not allowed to construct new buildings or make any amendments to existing ones; development of roads or other services is strictly prohibited by the Israeli Occupation Authorities. They have also been subject to numerous attacks carried out by colonists and Israeli soldiers.
Fares al Wahsh, head of the Village council commented by saying: 'these provocative Israeli measures will not put us down and we will always be committed to our lands.'
Picture 1: targeted lands turned into barren lands
Picture 2: Kfar Khamis colonial outpost
Historical background:
Jib al Theeb is located 15 km to the south east of Bethlehem. It was named after a cave of a wolf (Theeb is wolf in Arabic), a myth says that a massive wolf lived in that cave terrorizing the villagers.
Its total area is 200 dunums inhabited by 175 people. In 1967, the Israeli Occupation Army displaced 44 families who took refuge in Jordan. Colonization and land confiscation is what is worrying the locals the most as Israeli colonies are expanding on the eastern and southern sides of the village.