Eviction orders for tenths of agricultural dunums in Nahaleen village/ Bethlehem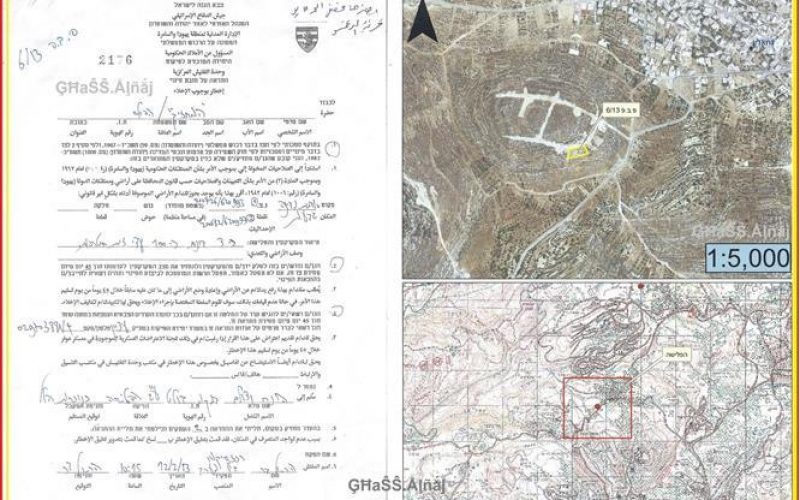 Violation: eviction orders for 42 dunums
Location: Nahhalin- Bethlehem
Perpetrators: The Israeli occupation army
Victims: 5 Palestinian families in the mentioned village
Details:
On 12/02/2013, citizens in Nahhalin found orders that demand evacuation from their agricultural lands. The orders were found in the targeted lands and were enveloped in nylon.
According to the orders issued by the so-called Israeli Defense Army- Civil Administration of Judea and Samaria area- Guard of State Property- Central Inspection Unit) demand eviction of these lands on the pretext of being state property and considered the landowners aggressors on Israeli lands. The orders also asked landowners to leave the place and return lands to their previous status within 45 days starting from 12/02/2013. The orders was attached with aerial photos that show the targeted lands whose area is 42 dunums and belong to Hosni Salama, Izat Shakarna, Nasser Zeidan, Jaafar Shakarna, Saleh and Ibrahim Najajra and they harvest olive trees, almond trees along with some crops. The village council assigned a lawyer to follow the case up and protect the lands. Ghasan Najajra, a young activist, stated: "The eviction order is known for its purpose which is to expand the settlements built on Nahhalin lands." An urgent meeting was called for to discuss how to face this attack by the Israeli occupation.
The table gives information about the targeted lands :
Area of targeted lands /
dunum

Jaafar Shakarna, Saleh and Ibrahim Najajra

41.8
*Resource: Field Research- Monitoring Israeli Violations Team- Land Research Centre
Summary about Nahhalin:
Southeast Bethlehem, Nahhalin's area is 18, 858 dunums, 890 of which are for construction. It has a population of 7460 people, according to Palestinian Central Bureau of Statistics, 2007.
The Israeli occupation confiscated 4,283 dunums of its lands to build Israeli settlements and 700 dunums for bypasses . 8 settlements are built on its lands and hider Nahhalin's demographic expansion and/ or any normal development. These colonies are: (Beit Ain-Isoref, Kfar Etzion, Gavaot, Efrat, Rosh Zurim, Hadar Betar, Allon Shevut, Migdal Oz)