Demolition of an under-construction Residence in Al Khas village – Bethlehem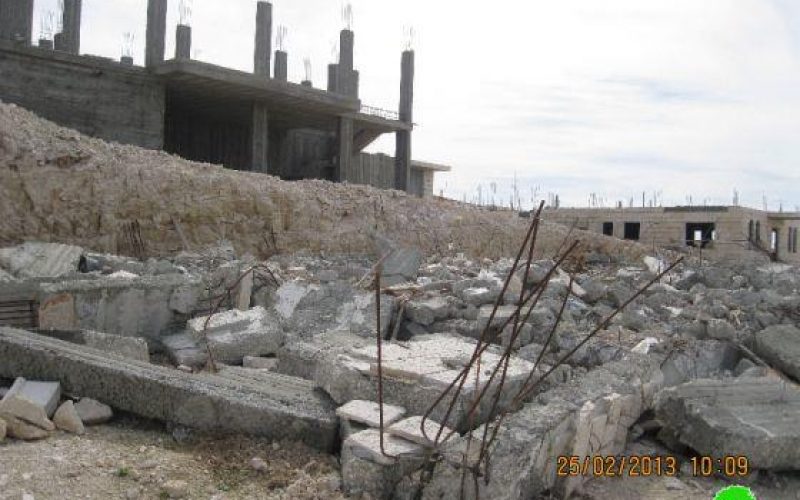 Violation: demolition of a residence.
Location: Al Khas – Bethlehem.
Date: February 7, 2013.
Perpetrators: the Israeli Occupation Army.
Details:
On February 7, 2013, the Israeli Occupation Army demolished an under construction residence and retaining wall in Al Khas village.
The residence is property of Ghassan Ahmad who currently lives in Jerusalem.
Mousa al Barq, speaking on behalf of the owner, said: "Ghassan's residence is built over a common property with two other residences; all three of them received demolition orders in July, 2012.
The owners objected to orders and opened a case at Beit El Military Court.
No warnings were issued before the demolition of Ghassan's residence despite having a construction licenses but this time the Israeli Occupation Army justified the demolition by claiming that it compromises the security of the nearby Mazmorya checkpoint.
The demolished residence was 150 m2 in area and was supposed to be inhabited by a 7-member-family".
The estimated costs of the demolished residence is around 100,000 US dollars.
Picture 1-3: the remains of residence
Al Khas is located on a hill with an altitude of 650 meters; it is surrounded by olive fields all around.
It is a semi arid mountainous area that is known for its Terra Rosa solid which is very fertile.
It is located between Bethlehem and Jerusalem, 5 km from Bethlehem; its total area is 7000 dunums and is inhabited by 567 people (2007 census).
The village has been inhabited by the Romans, Byzantines, and Muslims throughout the years; travelers indicated that shepherds used to stay in the area because of its closeness to Jerusalem.