Demolition a building in Beit Hanina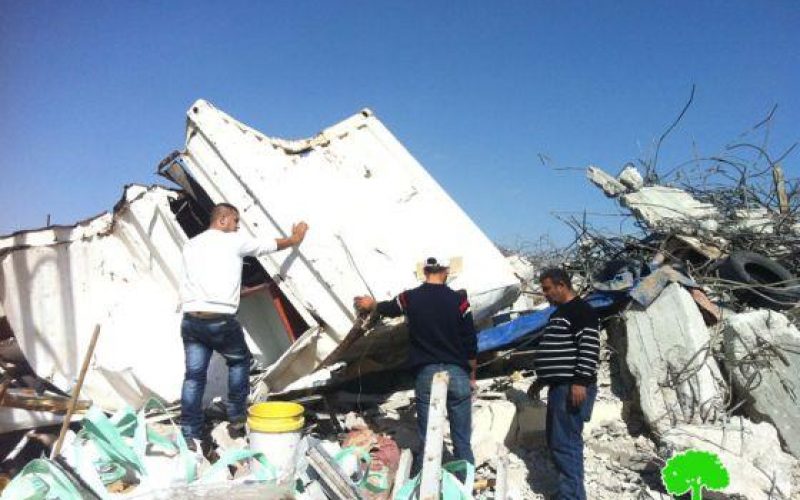 On February 5, 2013, the Israeli Municipality in the Occupied City demolished a building in Beit Hanina on the pretext of unlicensed construction; the building is 420 m2 in area and is divided into 4 apartments inhabited by 3 brothers and their father. See Table 2: the Casteros building:
| | | |
| --- | --- | --- |
| Victim | Family members | children |
| Salah Castero (father) | 2 | —- |
| Mohammad Castero | 10 | 6 |
| Afif Castero | 9 | 4 |
| Ayman Castero | 6 | 3 |
| Total | 27 | 13 |
Afif Castero said: 'we are three brothers and our father; we lived in different areas around Jerusalem but we wished to have a house that gather us all; we decided to buy a plot in Beit Hanina with a total area of 1632 m2 and raised the two-storey building that has 4 apartments, one for each of us.
While constructing the building, we received an order from the Israeli Municipality in the Occupied City demanding the immediate stoppage of construction subject to acquiring the needed permits. We immediately assigned a lawyer to follow the case up. We were also fined an amount of 200,000 ILS in addition to receiving numerous demolition orders.
We received a demolition order on 2012 which was postponed till January 31, 2013. A day prior to demolition, an Israeli police vehicle was roaming around the house but we never thought that it was exploring the area preparing for the demolition.
February 5, 2013, began as a normal day, we woke up early, had our breakfast, the children went to school and we went each to his/ her work.'
Rima, the wife of Ayman described the demolition; she said: 'at around 8:30 am, I was home with my sone Malek, 3, I was doing the house chores and suddenly heard dogs barking, the barks were getting louder before someone landed a massive knock on the door. I was trembling behind the door and never thought that Malek will open the back door for them; as soon as he opened, the dogs jumped at him and his innocence came out with one question, are going to let me play with the dog?
Then the soldiers broke into the house and ordered me to get out because the building is about to be demolished; I was not wearing my headscarf and I asked them to give me a moment to put it on but a female soldier pushed me to the ground and dragged me outside; I could not see Malek, I was worried, there were hundreds of soldiers outside but I saw Malek trying to get back inside when four soldiers held him and dragged him away'.
Afif continued: 'my wife called me and told me that what we saw in the morning was a preparation for demolition; my brothers and I rushed back t the house but were denied access; we had to jump over the walls to get inside were we saw over 300 hundred police officers and soldiers, 3 dozers, dogs, and even cavalry; they also had workers which were supposed to clear the contents of the building but they cleared almost nothing.
The soldiers were jumping and dancing on the matrices while the dozers roaring; at that moment, I saw our father running towards the house with tears in his eyes before falling apart….' The demolition campaign lasted for 8 hours.
2 days later:
LRC field observer visited the family two days later to see them in miserable condition; they were staying in the stable and he could see only eyes full of tears; they were looking through the rubble in an attempt to salvage anything as the Israelis left them with nothing but destruction.
The demolition in pictures
Childhood lost between the rubble