The Israeli Occupation to Al-Makhrour Residents
"Happy New Year …..We Are Here"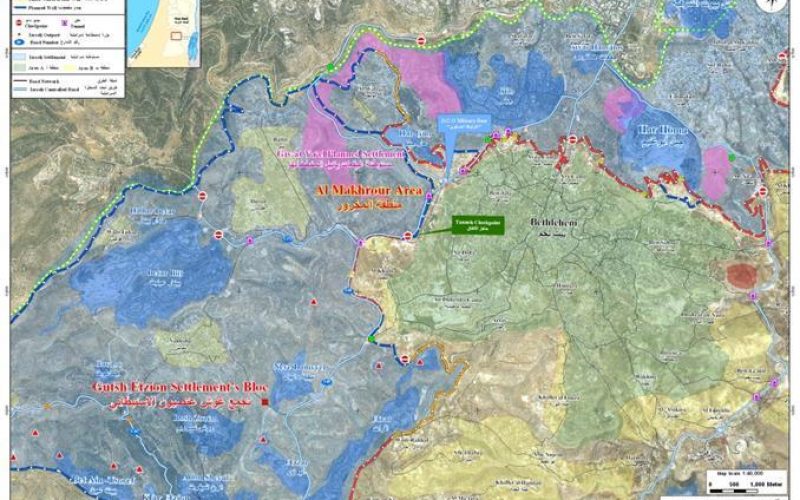 On the early morning of
January 16, 2013
, the Israeli occupation bulldozers accompanied by many Israeli Army vehicles stormed Al-Makhrour area southwest of Beit Jala city in the northern parts of Bethlehem Governorate, and destructed without prior notification about ten electricity poles with its infrastructure which resulted to the cutoff electricity on dozens of the Palestinian structures in the area with losses exceeds 30,000 thousand NIS.
See Photos of Destruction and Map 1
Al-Makhrour is an area located in the southwestern part of the city of Beit Jala north of Bethlehem Governorate. It is bordered by Al-Walajeh village as well as the illegal Israeli settlement of Har Gilo from the north, Al-Khader village from the south, Battir and Husan villages from the west, Beit Jala city from the east.
According to the latest revised route of the Segregation Wall published on the Israeli Ministry of Defense's website on April 30, 2007; Al-Makhrour area along with Husan, Al -Walajeh, Nahalin, Wadi Fukin, Al- Jab'a, Khallet 'Afana, Khallet Al Balluta, and Beit Sakariya communities (pop exceeding +23000) will be set in an enclave and in isolation from the main cities and centers of life in Bethlehem governorate (Bethlehem, Beit Jala, and Beit Sahour).
It is worth mentioning that the lands of Al-Makhrour are one of the most fertile agriculture lands in Bethlehem Governorate, where residents of the area are deprived by the Israeli Occupation authorities from their legitimate right to build and cultivate on their own lands as the area is classified as "C" which according to the Oslo II Interim Agreement of 1995 falls under the full Israeli control.
Systematic Targeting of Al-Makhrour Area
As a matter of fact Al-Makhrour area had witnessed systematic-accelerated Israeli demolitions for the Palestinian houses structures and properties, started in December 2011 until this day. Below is a time line for the targeting and destructions that took place in Al-Makhrour since December 2011- present:





December 13, 2011: the Israeli occupation stormed Al-Makhrour area southwest of Beit Jala city and started without prior notification the demolition of old summer houses owned by three local residents from Beit Jala city.






May 3, 2012: the Israeli occupation bulldozers demolished a 300m2 restaurant owned by the local resident Ramzi Nakhleh Qesiyeh from Beit Jala city. The Israeli demolition of Qesiyeh restaurant ended with massive destruction in the site with a financial losses exceeded 100,000 NIS. Moreover, Mr. Qesiyeh received an Israeli notification to evacuate his house located nearby the demolished restaurant within two weeks, where and after the demolition Qesiyeh restaurant, and 2 km away, the Israeli bulldozers stationed in 18 dunums piece of lands owned by the local resident Sha'ban Mahmoud Abdullah Al-'Ayaseh and started without a prior notification to raze an agriculture road opened by Mr. Al-'Ayaseh four days ago to facilitate the cultivation of his land.






August 2, 2012: the Israeli occupation bulldozers stormed Al-Makhrour area started without prior notification to demolish a restaurant owned by Ramzi Nakhleh Qesiyeh, 40 m2 structure owned by Khader Judeh Jacob Khalilieh and a barracks owned by Jeries Fouad Mina Qasasfeh/Zeidan in addition to a structure owned by George Khalilieh. It is worth mentioning that this was the second time the Israeli bulldozers demolished the aforementioned structures where the first demolition took place in December 13, 2012, while the restaurant demolished for the first time on May 3, 2012.
To Conclude
The Israeli occupation just wanted to send Al-Makhrour residents their warmest wishes for the New Year (on their way) and to make them remember that they are still under occupation and they are a legitimate target for Israel's destruction machines until reaching their colonial and expansionist plans in the area on the ruins of their houses, and even after a while of time and even it constitute a grave breach for the international law rules and conventions:





Article 53 & 147 of the Fourth Geneva Convention of 1949 indicated that: Extensive destruction and appropriation of property not justified by military necessity and carried out unlawfully and wantonly, is a grave breach of the Convention.






Moreover Art. 23 of the Hague Convention of 1907 also provides: In addition to the prohibitions provided by special Conventions, it is especially forbidden to destroy or seize the enemy's property, unless such destruction or seizure be imperatively demanded by the necessities of war.






Also under the Universal Declaration of Human Rights Adopted and proclaimed by General Assembly resolution 217 A (III) of, December 10, 1948, Article 17 reads: 'No one shall be arbitrarily deprived of his property.' Which means it bans Israel from destroying or confiscating the property of the Palestinians at any case.






In the year 2004 the United Nations Security Council called on Israel to stop demolition of Palestinian homes under Resolution No. 1544-(2004), the resolution states: 'The Security Council called on Israel to respect its obligations under international humanitarian law, particularly the obligation not to undertake home demolitions contrary to that law'.