Expansions in Halmish Colony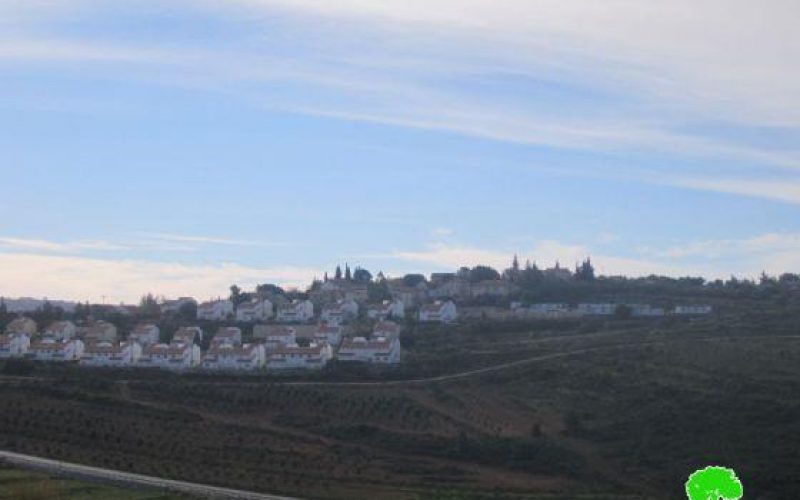 Violation: expansions on Halmish colony.
Date: January 20, 2013.
Location: the western side of the colony.
Details:
The rise of the right wing parties in Israel have paved the way for massive colonial expansions in the West Bank in a bid to put facts onto the ground and change the demographic characteristics in it. Colonists of Halmish (also known as Neve Zouf) placed 34 mobile homes in the western side of the colony. It is worthy to mention that the mobile homes had been transferred using Israeli Army trucks.
In October 1977, the Israeli Cabinet agreed upon the establishment of Halmish colony over the ruins of a Jordanian military camp which was abandoned in 1967. A year later, the Israeli Occupation Authorities confiscated 600 dunums of Palestinian lands for that purpose in addition to hundred others that were captured over the years.
Halmish area nowadays is 2510 dunums, inhabited by around 1300 colonists. The establishment of Halmish resulted in the loss of over 1000 dunums of agricultural lands which caused drastic damage to agriculture and the economy of An Nabi Saleh.
The rise of the Israeli right wing to power has accelerated colonial expansions in the West Bank; the last Israeli government was a government of 'colonists' who supported colonization and capture of Palestinian properties. They also offered colonists with support and protection throughout their aggressions against the Palestinians.
Colonization is the most visible obstacle of peace but the Israeli refuse to even freeze it as it serves their 'bigger' plan.