Demolishing Structures in Huwwara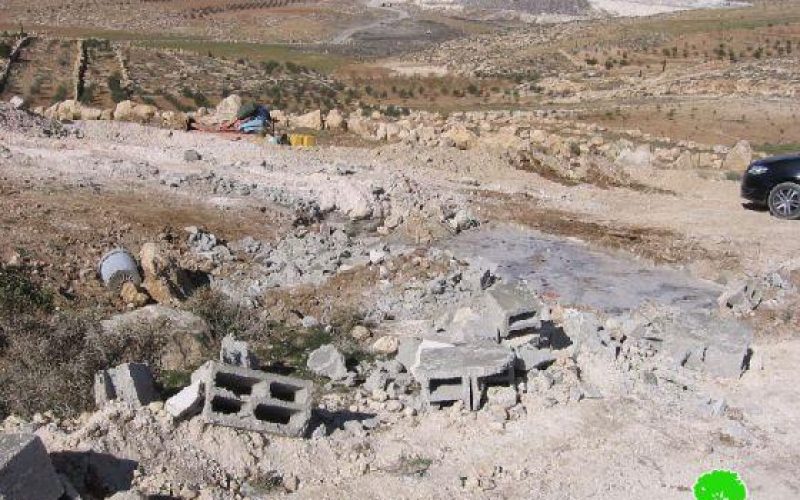 Violation: demolishing a shed and a cistern.
Date: January 21, 2013.
Location: Huwwara in Yatta – Hebron.
Perpetrators: the Israeli Occupation Army.
Victim: Mousa abu Aram.
Details:
On January 21, 2013, the Israeli Occupation Army demolished a shed and a cistern in Huwwara village to the east of Yatta. The owner said that officers of the Israeli Occupation Civil Administration accompanied by Israeli troops and a dozer broke into the area after demolishing a residence in Al Rafaiyya village.
Workers removed the contents of the shed before the dozer leveled the structures. He said that the dozer buried the cistern using the rubble of the shed.
Abu Aram received a stop-work order on July 16, 2013 which he took to the lawyer, Alaa Mahajna in order to prepare the documents needed for objecting to the orders and apply for a construction permit. However, the Israelis demolished the structures before issuing any final demolition order.
Picture 2: a receipt for the permit application fees.
Table: targeted structures:
| | | | | | |
| --- | --- | --- | --- | --- | --- |
| No. | Structure | Area / volume | Built in | Status | purpose |
| 1 | Cistern | 100 m3 | 2010 | Used | Irrigating trees and plants |
| 2 | Shed | 55 m2 | 2010 | Used | Resting and storing equipment |