Setting 78 Olive Trees Alight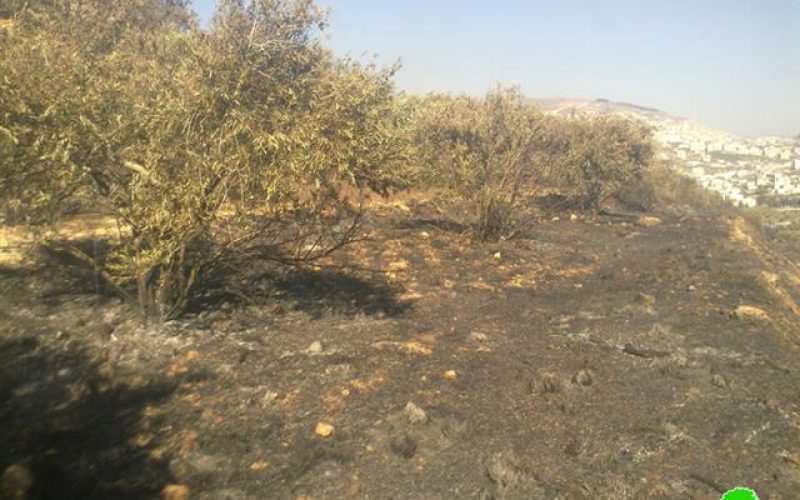 Violation: setting 78 olive trees alight of which 24 were turned completely into ashes.
Location: al Mufaq'a – southern Jama'een – Nablus.
Perpetrators: Kfar Tipuah colonists.
Date: May 9, 2012.
Victims: Fathi Hammad and Fawzat Mansour.
Details:
On May 9, 2012, a group of Israeli colonists broke into Palestinian fields in an area known as al Mufaq'a in Jama'een before spraying the trees with a flammable substance and setting them ablaze. It must be noted that the heat and strong wind allowed the flames to spread even further, damaging 78 olive trees; 24 were turned into ashes.
Picture 1-5: damage
The Israeli Occupation Army rushed into the area and instead of detaining the assailants Israeli troops prevented the farmers and the firefighters from approaching claiming that the area is within the so-called Tipuah colony security buffer zone.
Nevertheless, the farmers' determination broke the Army's might; 45 minutes later the farmers were allowed in. They tried to put the blazing flames down with the available means. Another 45 minutes passed before the farmers, aided by firefighters, managed to put an end to yet another colonist-made disaster. The damaged trees were the property of Fathi Hammad (56 trees) and Fawzan Mansour (22 trees). The targeted area has been a target for several previous aggressions; it has also been set as a target for Israeli colonial expansion plans.
Jama'een:
It is located 10 km to the south west of Nablus city. Its total area is 21,000 dunums including 2912 dunums of built-up area. Jama'een is known for a special type of white limestone and the large areas of olive planted fields.
Kfar Tipuah colony:
The colony was built over Yasuf lands, overlooking Za'tara checkpoint which splits the West Bank into halves. Most of the inhabitants of the colony are disciples and admirers of Ma'ir Kahana; a Jweish Rabii who used to call for the ethnic cleansing of the Palestinians before being murdered in the US years ago. The colony's total area is 233 dunums; it includes a military outpost besides the residential area. It was established in 1982 and two outposts spawned of it in the year 2000; these are:
Rihalim B: located to the south of Yasuf.
New Tipuah: to the east.
Both colonies devoured more than 100 dunums of the village's lands.