Ravaging 100 Trees in Bitillo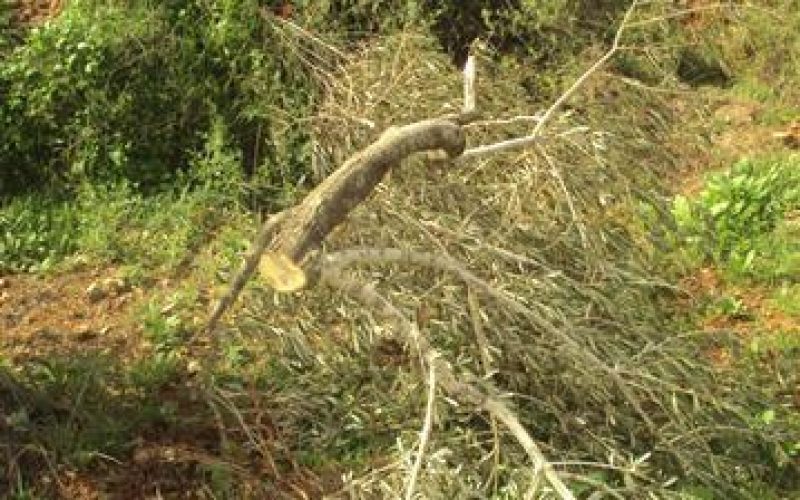 Ravaging 100 Trees in Bitillo
Violation: ravaging 100 olive trees, around 70 years of age.
Location: Al Ghazawi and Al Abbad sites in Bitillo – Ramallah.
Date: May 1, 2012.
Perpetrators: Nahliel colonists.
Victims: 3 Palestinian families (27 people).
Details:
On May 1, 2012, Saleh Darwish was gutted to see his 70-year-old olives ravaged by Israeli colonists who reflected their hatred. Mohammad Darwish (58), another victim, said to an LRC observer: 'the colonists are targeting all the lands edging the colony; this is obvious by their provocative aggressions which are intended to push the Palestinians out to facilitate colonial expansions which are supported and advocated for by the Israeli Authorities while, at the same time, talking about peace around the world'.
On the other hand, Al Abbad area, on the eastern part of the village, was targeted as well. 35 olive trees owned by Samih al Bazzar were ravaged. It must be noted that another similar aggression, where 250 olives trees were ravaged, had taken place two weeks earlier.
Table 1: victims:
Victim

Site

Family members

trees

Saleh Darwish

Al Ghazawi

11

37

Mohammad Darwish

Al Ghazawi

7

28

Samih al Bazzar

Al Abbad

9

35

total

27

100
Picture: scenes of aggression


Bitillo:

Bitillo is located 19 km to the north west of Ramallah; it is considered the largest village, are-wise, in Ramallah Governorate. The village is edged by Bir Zeit (east), An Nabi Saleh (north), Ras Karkar and Al Janya (south), and the 'Green Line' (west). Around 4500 people inhabit the village, mostly youth. The village is known for planting olives, prunes, figs, and citrus. More than 2000 dunums of the village lands are suitable for cultivation. The village total area is 13419 dunums including 5825 dunums of water fed plants and 2500 dunums of olive fields.