Demolition a Cafeteria in Hizma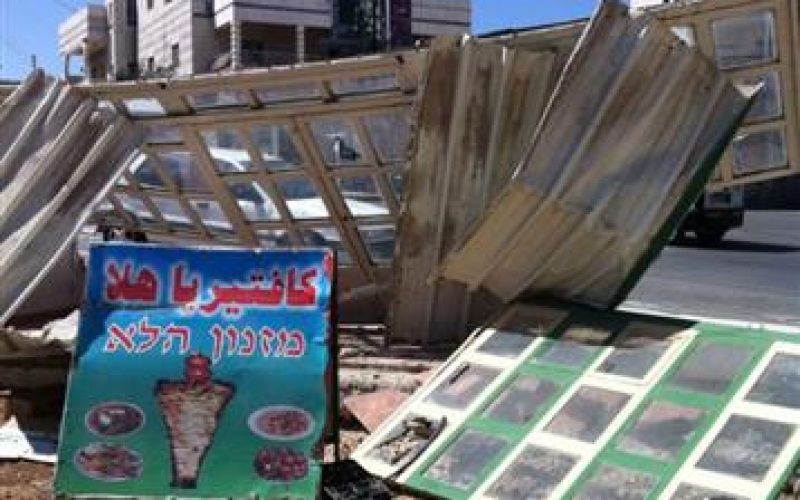 Violation: demolishing a cafeteria and confiscating its contents.
Location: Hizma – north of Jerusalem.
Date: May 28, 2012.
Perpetrators: the Israeli Occupation Army.
Victim: Shawki Rashid.
Details:
At around midnight on May 28, 2012, Israeli troops demolished a cafeteria for fast food and sandwiches in Hizma on the pretext of lacking a construction permit. The cafeteria is the property of Shawqi Rashid (30), married and father of one. He said: 'I started the cafeteria in 2006 and called it Hala. It is basically a 35-m2-container which I turned into a restaurant. Two years earlier, I received an eviction order for the cafeteria; an employee of the Israeli Municipality in the Occupied City took a picture of himself while handing me the order. However, I did not comply to the order because the contained is placed over a 4-dunum-plot that was bought by my father in 1983. On Monday, May 28, 2012, Israeli troops and two dozers broke into the area and prevented anyone from getting near.
An Israeli Municipality in the Occupied City officer placed a demolition order on the container and took a picture of it before removing it again. We requested a permission to clear the contents of the container but they did not allow us to. One of the officers detached the gas and electricity supply and a crane lifted the container and loaded it. 2 fridges, a shawerma oven, an oven, and much other equipment were confiscated. The dozers also leveled the lands around the cafeteria, destroying everything on their way. I asked the officer in charge for a receipt for all the confiscated stuff but he refused to even talk to me'.