Demolishing Structures in As Samu'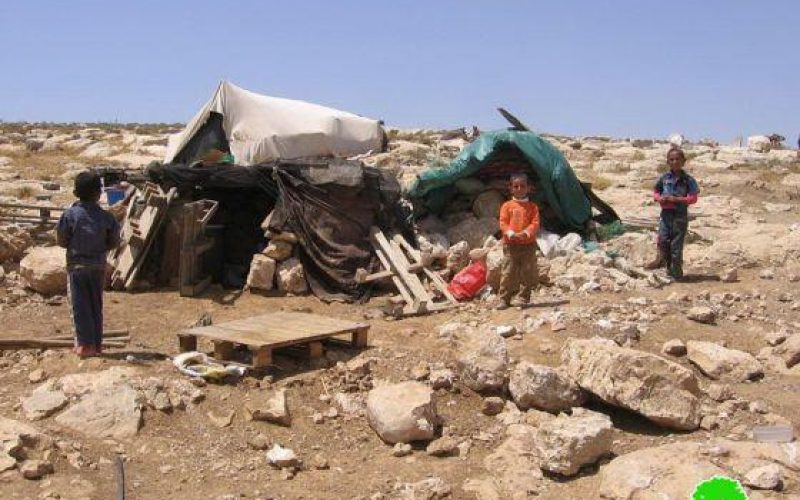 Deat: May 23, 2012.
Location: Khirbit Widadi – As Samu', Hebron.
Perpetrators: the Israeli Occupation Army.
Victims: Shihda Saleh and his son Zyad.
Details:
On May 23, 2012, Israeli troops demolished residences and barns in Khirbit Widadi to the east of As Samu' town. The structures were the property of Shihda Saleh and his son Zyad. Shihda's wife said that officers of the Israeli Occupation Civil Administration had a tour around the area two days prior to demolition. This time they were accompanied by soldiers and dozers which carried out the demolition. The soldiers set a perimeter and cleared out some of the contents of the houses; however, they did not allow anyone near. She said that they had not receive and notifications.
picture 1-4: demolitions
table 1: demolished structures:
No.

Victim

Area (m2)

Family members

Children

Structure (material)

Built

usage

1

Shihada Saleh

50

3

0

Residence (sackcloth ceiling)

2005

The family residence

70

Barn (metal slabs)

2006

200 cattle

15

Barn (rocks)

2006

2

Zyad Saleh

50

10

7

Residence (sackcloth)

2009

30

Residential tent (sackcloth)

2008

150

Barn (metal slabs)

2006

Raising immature cattle
After demolition, the owners used the rubble to create some sort of a shelter. Khirbit Widadi is located to the south east of As Samu', edging by-pass 317. It is inhabited by around 100 people.
Prepared by
The Land Research Center
LRC