Demolishing a Number of barns and Tents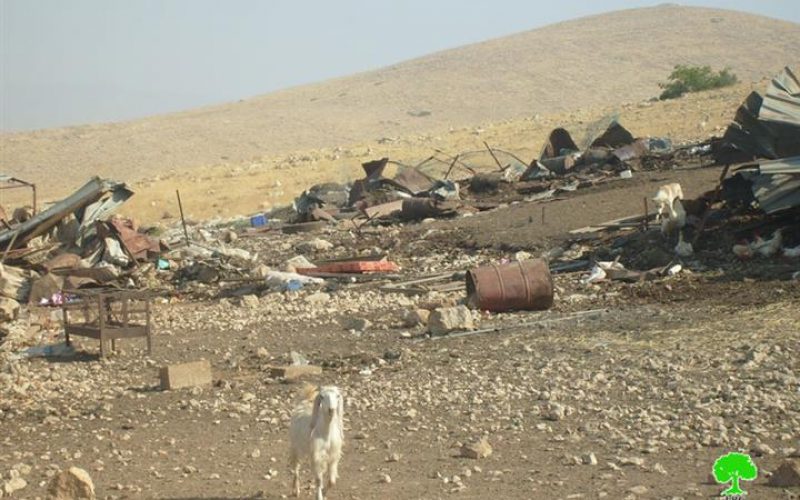 Violation: demolishing 5 residential and agricultural structures benefiting 29 people including 21 children.
Perpetrators: Israeli Occupation Army.
Date: May 25, 2012.
Location: Fasayel – Jericho.
Victims: members of Al Rashayda family.
Details:

Less than two months passed when Al Fasayel was a target for an Israeli demolition campaign. On May 25, 2012, an Israeli force accompanied by a dozer broke into al Fasayel and demolished three residential shacks and two barns on the pretext of unlicensed construction in area classified 'C' according to Oslo. It is the second demolition in around two months and the fourth in year time. Table 1: victims:
Victim

Family members

Children

Damage

Remarks

Residential

Barn

others

Abed al Rashayda

Fourth demolition

Husein al Rashayda

Fourth demolition

Khader al Rashayda

kitchen

Fourth demolition

Total

1
Abed al Rashayda stated: 'we were deported from our villages in Beer Shive in 1948 before taking refuge in Al Fasayel area, southern Hebron. Despite our misery, the Israelis never left us in peace. Our homes have been targeted by the Israelis for years now; we tried to move our dwelling but we were never spared. We even tried to get licenses for our structures; of course, our efforts were futile as all applications were rejected upon submission. Needless to say, that the Israelis want us out of thearea by any means necessary; but where to go? And, where to live? '
Fasayil is located 17 km to the north east of Jericho; according to the Israeli Organizational structures of 1981, the village built-up area should not exceed 122 dunums. According to the Village Council, the village is population is 1132 people. Most of the residents are Bedouins who came to the village searching for water and herding areas in addition to a minority of refugees. Most of the village lands are classified as 'state property' preventing the Palestinians from exploiting it in any possible way in addition to chasing them out and threatening their simple shelters.
Fasayel lacks the basic services of water and electricity and transporting water is quite costly, around 15 ILS (4 USD) per m3.
House demolitions are a breach of article 53 of the Geneva Fourth Convention stating: 'Any destruction by the Occupying Power of real or personal property belonging individually or collectively to private persons, or to the State, or to other public authorities, or to social or cooperative organizations, is prohibited, except where such destruction is rendered absolutely necessary by military operations.'