Ravaging 250 Olive Trees in Bitillo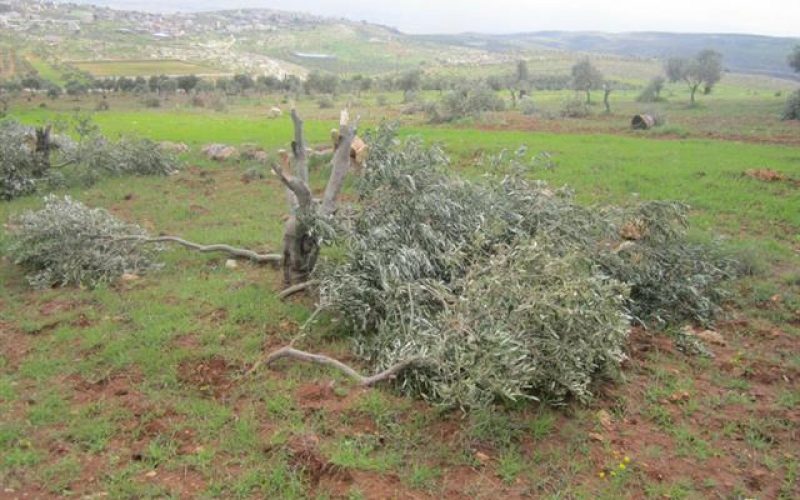 Violation: ravaging 250 Olive trees.
Location: Kafr Soum and Al Dhour – eastern Bitillo.
Date: April 17, 2012.
Perpetrators: Nahliel colonists.
Victim: Mohammad al Bazzar.
Details:
Mohammad al Bazzar (71) surrendered to tears when his eyes fell on the site of his trees which he spent most of his life growing. Colonists ravaged the trees in a way expressing their hatred to these blessed trees. Mohammad intended to protect his property by planting trees besides having an extra source of income to support his 12-member-family.
On April 17, 2012, a group of Nahliel colonists attacked the olive fields in Kafr Soum and Al Dhour, eastern bitillo. The colonists used saws and axes to ravage 250 olive trees. It must be noted that this is not an isolated incident; it is actually the third in less than a year. It is worthy to mention that the owner filed a number of complaints to the Israeli Police which never took any measures.
On the contrary, they have always tried to cover up for the colonists and sometimes find 'excuses' for them. The owner believes that the Israeli Security forces are nothing but an auxiliary tool for the colonists.
Picture 1-8: scenes of aggression
Bitillo:
Bitillo is located 19 km to the north west of Ramallah; it is considered the largest village, are-wise, in Ramallah Governorate. The village is edged by Bir Zeit (east), An Nabi Saleh (north), Ras Karkar and Al Janya (south), and the 'Green Line' (west). Around 4500 people inhabit the village, mostly youth.
The village is known for planting olives, prunes, figs, and citrus. More than 2000 dunums of the village lands are suitable for cultivation. The village total area is 13419 dunums including 5825 dunums of water fed plants and 2500 dunums of olive fields.