Flattening Al Salam and Al Muhajereen Roads for the Third time in a year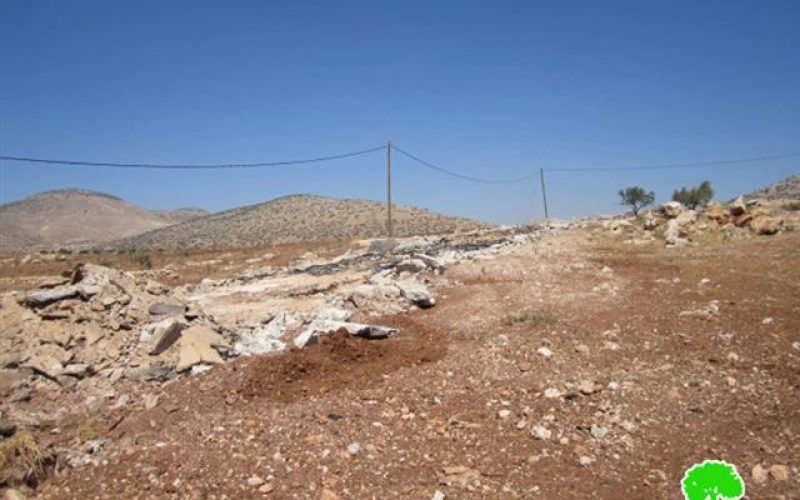 Violation: destruction of Al Salam and Al Muhajereen roads.
Date: April 18, 2012.
Perpetrators: Israeli Occupation Army.
Victims: residents of Al Aqaba.
Details:
On April 18, 2012, the Israeli Occupation Army commenced a new demolition campaign in Al Aqaba. Israeli troops besieged the village before milling the 1400-meter-long Al Salam road which has been destroyed for the third time. However, this time the destruction rendered renovation impossible due to the fact that the asphalt was destroyed and turned upside down; also, the Israeli dozers blocked the road with huge blocks.
The renovation of the road was carried out on September 15, 2011, soon after the second demolition, in a project funded by the Palestinian Ministry of Finance. Soon after the destruction of Al Salam road, the dozers moved towards the 1-km long Al Muhajereen road and leveled it. The road was also reconstructed after the second demolition. In addition, the Israeli troops destroyed 400 meters of retaining walls.
It must be pointed that more than 45 stop-work notifications has been issued against structures in the village; these structures include the mosque, kindergarten, and many others. In March, 2011, both roads were destroyed in addition to two shacks. The roads were reconstructed in September, 2011.
Al Aqaba:
It is located 5 km to the north east of Tubas; its total area is 2600 dunums with only 100 dunums designated for construction according to the Israeli organizational plan. 2000 dunums of the village lands were exploited by Israeli colonization, which imposed drastic damage on agriculture knowing that 80 % of the village population relies on agriculture in their living. Economic development of the village is limited. Only one commercial shop 'covers' the needs of around 300 people.