Demolishing 11 Structures in Rafat village in Salfit Governorate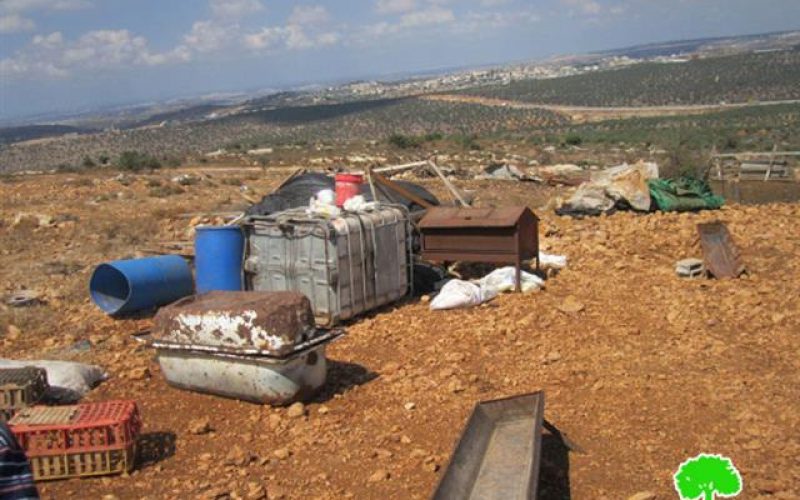 Violation: demolishing 11 structures, 7 residential, inhabited by 30 people including 18 children, and 4 barns.
Location: Al Sharaf, eastern Rafat – Salfit.
Date: April 16, 2012
Victims: four Palestinian families.

Details:
Al Sharaf area in Raft was hit by a wave of demolitions raged by the Israeli Occupation Army. On April 16, 2012, Israeli troops accompanied by a dozer broke into the area and commenced a demolition campaign that hit 11 structures owned by 4 Palestinian families.

It must be noted that this is the second campaign in less than six months; both of them were conducted under the lame pretext of building without permit in area classified 'C' according to Oslo. Kayed Ayyash (52), one of the victims, said that they have been residing in Al Sharaf area for over twenty years. He said that they have taken herding as their profession with over 600 heads owned.

He also said that they leased the lands from their owners and built their primitive houses that lack even electricity there. However, this does not spare them the attacks of the Israeli Army and colonists of the nearby colony of Eli Zahav.
Table 1: Victims:
Victim

Family members

Children

structures

Residential shack

barn

Aziz Ayyash

10
6
3
2

Kayed Ayyash

4
3
2
1

Ma'zouz Ayyash

8
5
1
—

S'oud Ayyash

8
4
1
1

Total

30
18
7
4
Scenes of destruction – Rafat, April 16, 2012
Prepared by
The Land Research Center
LRC